Gogo Herbs Coupon Coupon Offer
Brand Concept
There is never a shortcut to health. We firmly believe that an active life and natural diet are the best way to maintain good health, so the brand is named after Gogo Herbs. In addition to symbolizing a healthy life, Gogo Herbs also represents an attitude of actively pursuing health.
Start setting health goals for yourself today, go for health with us!
Business Hours
Monday to Friday 9:00-18:00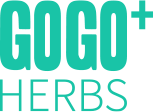 Brand Concept
Hong Kong people are always juggling many things in their life, the irregular meal and lack of exercise result in taking a turn for the worse of our health. Have you ever slowed down and taken your and your family's health into the consideration?
Gogo Herbs have collected the best quality, variable, good-value and suitable health products for every customer from all over the world, in order to supplement the health needs of Hong Kong people by effective and efficient service. There is no shortcut to maintain good health. We believe that an active lifestyle and healthy diet are the best ways to maintain health. Gogo Herbs is becoming the best partner of everyone and accompanying you to pursue a healthy lifestyle. Let's start from today, we go for Good Herbs, Go for Health!
customer service
Tel: 3702 6959
Whatsapp: 5483 0695
Time: Monday to Friday 9:00-18:00