Online Shopping Guide
First Time Shopping
Click the"register"button on the top right of the home page to register as a member of Gogo Herbs online store for free. Members can check recent orders (such as order number, order details, or order status) in the page"my account"you can also manage your account information such as billing and shipping addresses for your next order.
Online Shopping Procedure
1. "Log in"Gogo Herbs online store
2. Browse the product catalog or search by keywords through the "search field", select the product and quantity, and click " add to Shopping Cart " 
3. Click "Cart" icon on the upper right corner to check your shopping cart. Check the items and click "checkout".
4. Fill in the "Billing details" and select the delivery method.
5. Choose credit card, Payme or other payment method. All items are settled in Hong Kong dollars.
6. 核對所有資料後,按"Purchase Order" (Choose to pay online will transfer to Paypal/Stripe payment system)
7. The order will be scheduled to be delivered within 2-3 working days after confirming that the payment has been settled, customers will receive a notification by email. (Please check the junk box to avoid the email being identified as spam)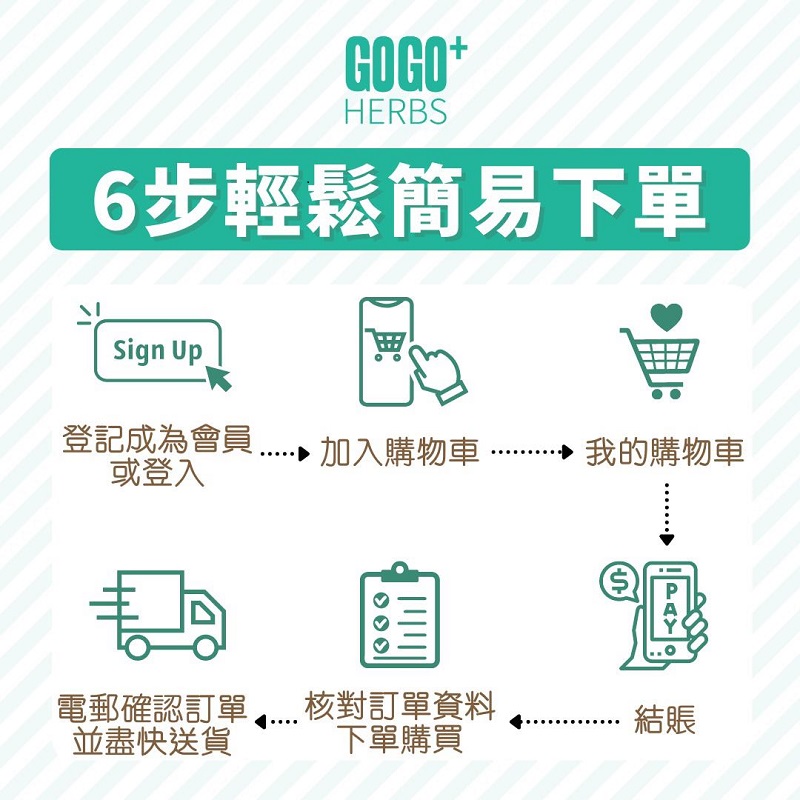 *" Choose shipping method "
1. 【SF Express Free Delivery】Purchase upon $300 to enjoy free delivery service (Please fill in the code of business/residential address/SF Station/ EF Locker (if applicable) at the delivery address column)
2. 【SF Express with Delivery Charge】For the order below $300
3. 【Gogo Herbs Cargo Fleet】 Purchase Covid-19 RAT test kits upon 100 pcs to enjoy free delivery by Gogo Herbs logistics. (Delivery to the industrial/commercial/residential address in the urban area, and may be delivered to the management office according to the building guidelines during the epidemic situation. We will communicate with customers in special case)
4. 【Free Pickup】Monday to Friday at 3:00 p.m. to 6:00 p.m. Please make an appointment with our customer service 3 hours in advance via WhatsApp (5483 0695). No additional fee will be charged.
Delivery Charges and Delivery Terms
All items only ship to Hong Kong
After confirming the payment, the delivery will be arranged within 1-2 working days
Shipping and Receiving Arrangements
– The confirmed order before 2:00 p.m. will be shipped out at same day
– The confirmed order after 2:00 p.m will be shipped out on the next working day
– The items will be delivered to the provided address within 1-3 working days
– A delivery notification with the tracking number will be sent to the customer by email. (Please check the junk box to avoid the email being identified as spam)
– Customer will receive a SMS push up notification if the items have arrived to the designated SF store / SF locker.
– If the items are going to be delivered to an industrial/commercial/residential address, the courier will call you before the delivery
Mong Kok Office Pickup Arrangement
Time:Monday to Friday 3:00 p.m. to 6:00 p.m.(Except Public Holiday)
Address:Room D, 5/F Lucky Horse Industrial Building, 64 Tong Mi Road, Mong Kok About ten-minute walk from Mong Kong MTR station (Exit A2)
* Please make an appointment with our customer service 3 hours in advance via WhatsApp (5483 0695).
**If you choose to pay by cash, please bring your own loose change
Payment Methods
1. Stripe Credit Card Instant Payment (Master Card,Visa Card, AE Card)
2. HSBC Transfer
Account Name Account Name: Take Care HK Limited
Account Number Account Number: 143-894210-838
3. Paypal: info@takecare.com.hk
4. FPS: 54830695
5. AlipayHK
6. WeChat Pay
7. Payme
Cash / Octopus (Pickup only)
Please send us the bank slip with the order number and amount by WhatsApp (5483 0695) for confirmation. The payment should be settled within 3 working days, otherwise the order will be cancelled automatically.
Shopping terms
Customers will receive a confirmation message of the order by email upon successful payment.
We are dedicated to ensure adequate stock availability, if stock is sold out, we will contact the customer for alternative arrangements.