Strong advantages
The choice of confidence
quality goods
Safe Express
Thousands of varieties
Your choice

Monthly Picks
New products on shelves

All over Hong Kong
Global search

Professional customer service
Answer kindly
Discover diversified pet health care to meet the needs of every furry child
Quick delivery, protect your pet's health and start your journey immediately
Give cats and dogs human supplements
Not only cannot it be absorbed and metabolized
Easy to overdose, safety concerns
Products on the market for low cost
Use chemical additives
Injury to the liver and kidneys
In order to improve the taste
Products add a lot of fragrance
Long-term consumption may harm health
❌Lack of security verification
The source of raw materials is unknown
Production qualifications are unclear
Product efficacy lacks verification
GGH understands the importance of pet health products

✅Improve health
✅Supplement nutrition

✅Prevention is better than cure

✅Enhance physical fitness
The importance of pet supplements is to provide nutritional supplements, support specific health needs, prevent disease, promote digestive health, improve oral health and promote mental health. It is important to choose the right supplement and follow the instructions for use.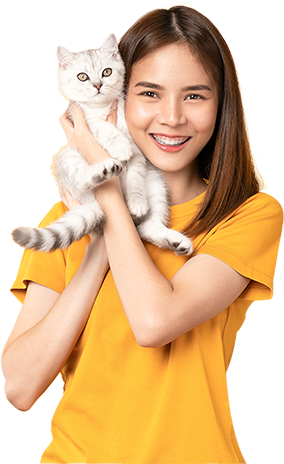 Caring for Your Pet's Health Starts with Diets
Pets are the best friends of human beings. Wherever there are fur kids, there is joy, warmth and happiness. However, cats and dogs generally have a shorter lifespan than humans, so if pet owners want to spend more time with their fur kids, the best way is to help them maintain a healthy body and reduce the risk of disease. Diet is very important for cats and dogs, and the high-quality cat food and dog food can provide all-round protection for pets, guarantee pet health and reduce medical expenses. Relevant studies have pointed out that the top three pet health issues that pet owners care about are: gastrointestinal health, urinary system health, skin and fur health. Thus, among all the pet food and pet health products, these three types of pet products are the most popular.
Pet Health Products
Gogo Herbs is a search for trusted high-quality cat and dog pet food brands for pet owners, covering the entire life stage of petsnutritional supplement,E.gPAW Pet Health Brands. The product is a high-quality nutritious food tailored for cats and dogs,pet suppliesAnd healthy nutritional supplements, selected high-quality natural raw materials, after research and development and testing by professional veterinarians, food scientists, nutrition experts and technical teams, and constantly innovating ingredients, in order to escort the health of pets. The brand also launches special formulas for animals of different ages to supplement the nutrients needed by this age group more specifically to achieve the best results. Whether it is a kitten or an adult cat, a small dog or a large dog, a puppy or an adult dog, cats and dogs in pregnancy and lactation, they can all receive proper nutritional supplements and care.
pet food
The pet food production plant has also been strictly selected to ensure that the food for fur kids can be produced safely. The well-known and popular brands selected by Gogo Herbs have a stable supply chain of high-quality raw materials, which are refined in advanced factories, passed different nutritional tests, and use fresh-keeping and sterilization technologies to produce safe and hygienic dry and wet cat food and dog food. Pet health 100 points.
Pet Care Supplies
choose suitablePet Care SuppliesMay promote lustrous coat and healthy skin in pets. Gogo herbs selects products such as adult dog hair grooming spray and puppy shampoo, which are hypoallergenic and mild in texture, protecting pet skin and creating perfect hair. Welcome to contact Gogo Herbs customer service to purchase,Whatsapp +852 5483 0695