Self examination for covid-19 virus antigen has become an ordinary protection against the disease nowadays.Adults go to work , children go to school and the seniors step out home,they examine themselves to as a important precaution. As Covid 19 rapid antigen test kit is frequently used, it becomes usual as other disposables.It's essential to choose a qualified test kit and use it in the right way. Let us introduce the feature and usage of YHLO Covid-19 rapid antigen test kit to you, so that you can test effectively at home and avoid the trouble and risk of infection testing in line.
What is YHLO rapid test kit?
YHLO novel corona virus(2019-nCoV) antigen test kit is used for in vitro qualitative detection of novel corona virus(2019-nCoV) N antigen in nasopharyngeal swabs and nasal cavity swab samples .This test kit is simple to operate,no extra equipment is required for the test. The test result takes only 15 minutes to come out .
Theoretical and clinical ground of YHLO Covid-19 rapid antigen test kit
YHLO novel corona virus(2019-nCoV) antigen test kit(colloidal gold method) adopts Colloidal gold immunochromatographic sandwich method to detect novel corona virus N antigen.When the sample is collected and processed in the test hole, capillarity drives the sample to flow along the test card. If the novel corona virus(2019-nCoV) N antigen exists, this N antigen will integrate with the novel corona virus monoclonal antibody marked by colloidal gold and eventually forms immune complex.This immune complex will be captured by the novel corona virus monoclonal antibody wrapped on the film of test line T .The process will produces a red stripe at the T sign and indicate test result positive of the virus antigen.The test card also includes effectiveness control line(C). Generally speaking, the effectiveness control line(C) should show a red stripe when a test is successfully performed regardless whether there exists corona virus antigens or not in the sample.If no red line appears on the C area, the test fails . Another test should be operated with a new test kit.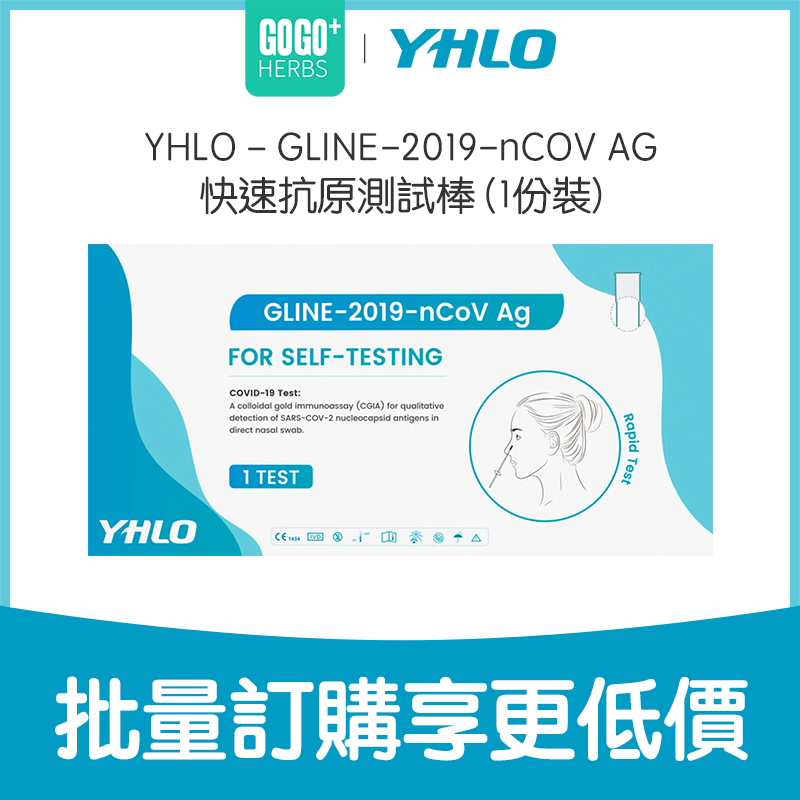 Quality certification of YHLO Covid-19 rapid antigen test kit
The quality certification YHLO rapid test kit acquired certification as:CE certification both professional and self-test version ,common list of covid-19 antigen tests issued by European Commission ,registration of Italian ministry of health, registration of Germany federal drug and Bfarm , common list of covid-19 antigen self test from ANSM. It's also approved on the first batch of common list as effective covid-19 antigen test kit by Hongkong Government and Hongkong Department of Health . YHLO is an official organizer of community test center, the quality of its products is reliable and trustworthy.
Origin of YHLO , the Research and development Institute
YHLO ,the Chinese biotech company was established in 2008, whose headquarter is located at Baolong Technology City,Baolong Street ,Longgang District, Shenzhen ,China.It is equipped with sterilized and dustless production workshop of 17000 square meter and international -leading level production line of diagnosis reagent and instrument. Their main businesses lies in the research and development ,production and sales of in vitro diagnosis devices and matching reagent based on chemiluminescence immunoassay.They have been exporting products to Europe ,America, Australia ,Australia,Southeast Asia, The middle east,Africa and other foreign countries.
Specification of YHLO rapid test kit.
1 dose pack , 5 dose pack, 7 dose pack ,10 dose pack , 20 dose pack.
Each dose is applicable for 1 person.The test kit includes: 1 buffer bottle with reagent , 1 instruction,1 sealed bag,1sampling swab,1 test device.
Gogo Herbs product link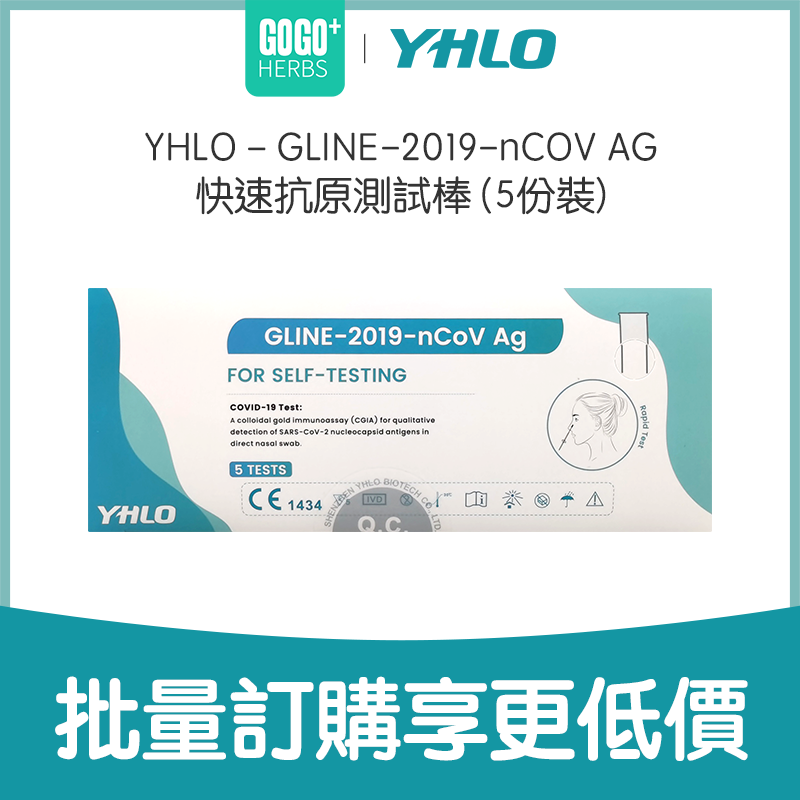 6 advantages of YHLO rapid test kit:
1.Rapid test result: Result comes out in 15-20 minutes
2.Convenient sampling:in vitro nasal cavity swab and nasopharynx swab
3.Simple operation:No need for extra equipment .The only thing you do is to take sampleof targeted fluid and place in the test device.It automatically runs the result for you.
4.Strong specificity:No cross reaction against common respiratory tract pathogen ,its accuracy reaches high as 99.56%,sensitivity is up to 96.38%
5.Validity :18 months,strong stability for storage.
6.Reliable quality:The quality of YHLO test kit has been proved effective in the market of various countries.It also acquired the necessary and official certification to access a number of countries as qualified covid-19 test kit .
Applicable crowd to use YHLO rapid test kit
People who have been to area of high infection potential.People worry about asymptomatic infection and people in need to perform daily self examination.
Instruction guidance: 5 steps of using YHLO rapid test kit.
Rinse both hands before taking a sample
First insert the swab in one of the nasal cavity deep as 2.5cm and spin itself for at least 5 times clinging to the nasal mucosa.Then repeat the operation in the other nasal cavity.
Place the swab into the plastic bottle provided , carefully stir the swab thoroughly in the reagent for over 15 seconds.Put on the cap then.
Drip three mixed reagent at the oval position of the test device.
Wait 15 minutes for the test result to show on the device ,you can read the result analysis on instruction.
Test result analysis of YHLO rapid test kit
Positive test result of virus antigen:A red stripe appears beside the [C] sign and another red stripe appears beside the [T] sign
Negative test result of virus antigen:only one red stripe appears beside the C sign
Invalid test result:Only one red stripe appears beside the [T] sign,or no stripes appears at all.In this case ,the test needed to be done once again with a new pack of test kit.
Cautions of using YHLO Covid-19 rapid antigen test kit :
1.The test kit only applies to nasal cavity swab or nasopharynx swab sample.It is invalid to other fluid sample.
2.Sample should be tested immediately after taken to avoid pollution interference.
3.Avoid any liquid or sample in the result indication frame,if the indication frame is moistened accidentally,please test again with a new test kit.
4.Children should take the test under parent guidance in case of swallowing.Please don't operate the test on young children without sophisticated practice to prevent unnecessary injury.
5.Please complete the whole process of test one person after another when testing on a group for best test accuracy. Social distance is suggest to keep between the tested person and the test sample should be handled with caution to prevent cross contamination.
Medical notice on YHLO test results:
The test result of YHLO rapid test kit should not be considered as diagnose of Corona virus infection.Positive result indicates the possible existence of novel corona virus series antigen in the test sample. A nucleic acid test should be taken to decide infection status. Meanwhile ,a negative result does not exclude the infection of corona virus series. The rapid test kit result should not be the only evidence when it comes to the treatment of disease and disease control management.Please do not make any medical related conclusion without professional medical advice.
News and articles related
Outcome of the evaluation of rapid diagnostic assays for specific SARS-CoV-2 antigens (lateral flow devices)
Search Tool for Rapid Antigen Test (RAT) Kits Approved for Use by Various Regions
Related Products: