While shopping for a supplement, you might come across the word " folic acid" or "folate", or "Vitamin B9" on the label of a product. Basically, "folic acid" or "folate" or "Vitamin B9" mean the same thing. Folate, also known as vitamin B9, is a water-soluble type of vitamin B. It is an essential nutrient that our body cannot produce, so we have to get it from our diet. On the other hand, folic acid is man-made folate produced in labs and added to supplements, multivitamins, and fortified foods such as cereals and bakery products. So, the only difference between folate (Vitamin B9) and folic acid is how we get the nutrient into the body.
Related: What Should Be Eaten During Pregnancy? A FULL GUIDE
Benefits of Folic Acid
The body needs folic acid for some of the basic processes that keep us healthy. For example, folic acid helps the body form healthy red blood cells, which help carry oxygen and nutrients to the lungs and body tissues; they also form blood clots to prevent We lose a lot of blood when we get hurt. In addition, red blood cells also help the kidneys and liver to filter waste from the blood and purify the blood. Second, folic acid is also very important for cell division. Based on this, studies have found that folic acid helps prevent birth defects of the nervous system. The defect occurs when the neural tube that connects the mother to the fetus does not close properly. This can cause spinal cord or brain defects in the unborn baby. Therefore, it is recommended that pregnant women take more folic acid during pregnancy to ensure the normal growth and development of your unborn child.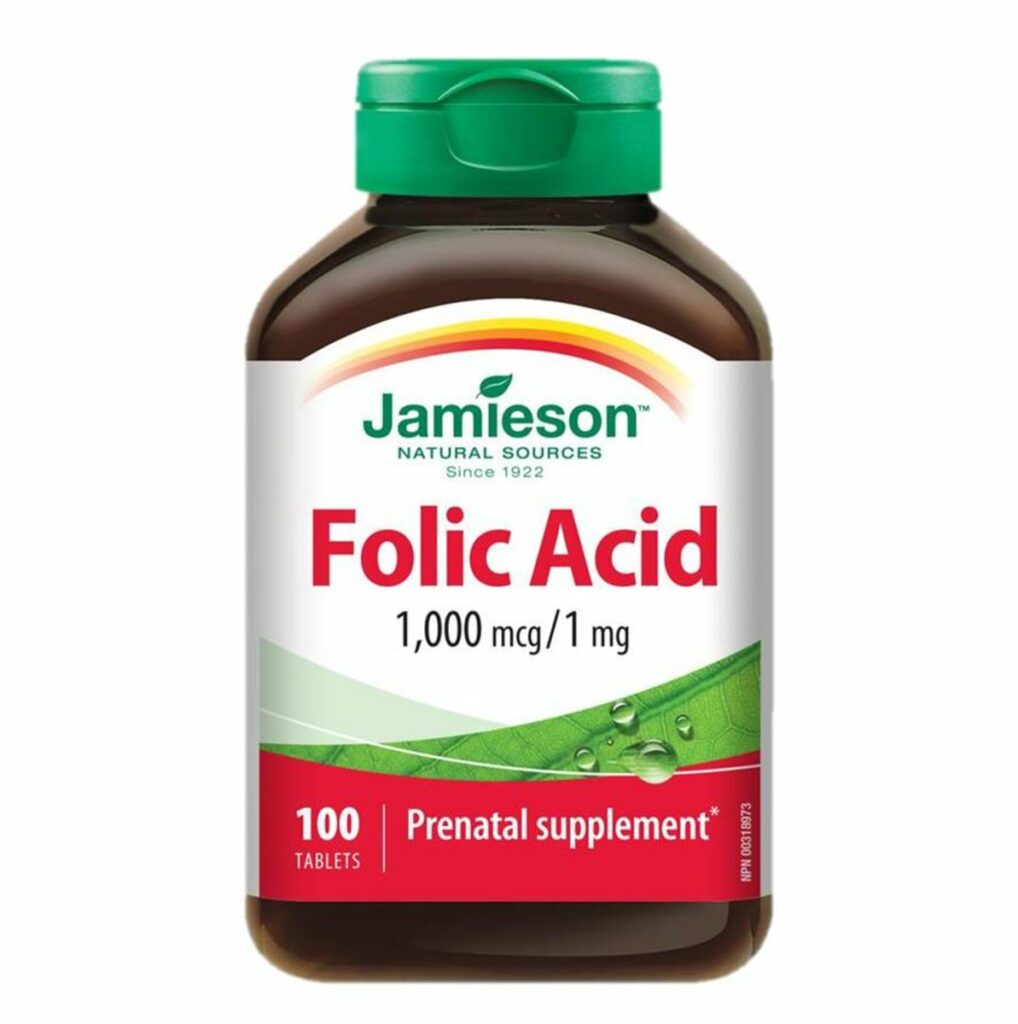 Food Sources of Folic Acid
Leafy green vegetables, such as cabbage, kale, spring greens and spinach
Other vegetables like Asparagus, Beetroot, Broad beans, Broccoli and Brussels sprouts
Meat and meat parts such Beef, Pork, Veal, Chicken liver, Ox's liver, Pig's liver.
Wheat bread, peas, eggs (especially chicken eggs)
Fruits like Avocado, Raspberries, Banana and Strawberries
Fortified food like milk, ice cream and breakfast cereals.
Note: Folate can be easily destroyed by heat. So when cooking your folate foods, avoid eating overcooking your fruits and vegetables.
People Who Need A Folic Acid Supplement.
Folate deficiency can expose the body to certain risks, such as folic acid deficiency and weakened immunity, and can also lead to a high risk of birth defects. Certain groups of people are more prone to folate deficiency than others, so it is recommended that they eat foods rich in folic acid and take the recommended dose of folic acid regularly. These people include:
1.People Who Do Not Eat Folate Rich Foods
Folic acid is present in specific types of foods, especially legumes and vegetables. So, People who do not eat these types of foods are at risk of developing a deficiency. These people generally include those who eat an unbalanced and unhealthy diet and people who regularly misuse alcohol.
2.People With Folate Malabsorption
Some people may eat folate rich foods, but their body is unable to absorb the nutrient from the food. This often happens when a person is suffering from a digestive disorder, such as coeliac disease. In this case, they need to take folic acid supplements to maintain a healthy nutrient level in their body.  
3.People Who Pee Too Much
Folate is a water-soluble vitamin which the body is unable to store for long periods of time. So, People who pee frequently may be losing folate from their bodies. Peeing excessive is usually not normal. It may be due to: failure in kidney function and liver damage caused by drinking too much alcohol.
4.People Who Take Some Medications
Taking some drugs can affect the folate level in your body or make the folate harder to absorb. These types of drugs include:
anticonvulsants
Cholestyramine (a drug that may help stabilize cholesterol levels)
Sulfasalazine (a medicine used to treat joint discomfort)
5. Pregnant women
Folic acid supports cell division during pregnancy. Due to this reason, it helps an unborn baby's brain, skull and spinal cord to develop properly. Most times, it's hard for pregnant women to get enough folate recommended for a healthy pregnancy from food alone. That is why doctors advise that pregnant women take 400 micrograms of a folic acid tablet every day until they are 12 weeks pregnant. If you are trying to conceive, you should also eat enough folate food or take a supplement during that period. Some classes of pregnant women may be required to increase their daily dose of folic acid if they fall into any of these categories:
Pregnant women concerned about blood sugar health;
Pregnant women taking anticonvulsants;
If they take antiretroviral medicine for HIV.
How to Take a Folic Acid Supplement
Both children and adults can take a folic acid supplement. You can also buy a folic acid supplement from a pharmacy an online health store like Gogoherbs. Folic acid supplements are usually sold as tablets or in liquid form. Sometimes, folic acid may be available as one product, or it may be combined with other vitamins and minerals (as a multivitamin and mineral supplement). Here are the recommended doses for different classes of people.
| | | |
| --- | --- | --- |
| CLASS | Age | Daily dose in micrograms |
| Children | 1-3 | 55 |
| Children | 4-6 | 75 |
| Children | 7-9 | 85 |
| Teenagers | 10-12 | 170 |
| Teenagers | 13-15 | 180 |
| Teenagers | 16-18 | 200 |
| Males | Over 18 | 280 |
| Females | Over 18 | 240 |
| Pregnant women | Over 18 | 400 |
| Breastfeeding women | Over 18 | 480 |
| Males | Over 60 | 320 |
| Females | Over 60 | 300 |
Please note: If your child is under 12 months old, the doctor will calculate the correct dose based on your child's weight. You can take folic acid with or without food. If your doctor has prescribed folic acid for you, take folic acid as directed by your doctor. If you have any questions about folic acid, be sure to consult a doctor or a licensed pharmacist.
Related Products: