Tall, lush, green and crunchy, the humble celery has seen a resurgence in popularity in the last few years for its health benefits. Celery is part of the Apiaceae family, that also includes carrots, parsley, celeriac and more. Its name is derived from the Greek word, selinon and is native to the Mediterranean and the Middle East. Celery is widely eaten vegetable and in modern times celery has often considered a "diet food" as it's a food that is low in calories but high in water content but there is so much more to this tasty vegetable.
Celery Nutritional Information
When the water content is as high as 95%, celery is stillSupplement fiberA good source of. Every 100 grams of celery contains 1.5 grams of fiber. The high water content of celery makes it a moisturizing vegetable. About one celery stalk has 2 ounces of water.Celery is a low-calorie vegetable, a celery stalk contains about 7 calories, and does not contain any protein and fat. Because of this, we can often see celery in weight loss recipes. Studies have shown that chewing large amounts of celery can quickly increase satiety.
Celery contains Vitamin A and Vitamin K, these 2 typesVitaminsHelps our immunity, skin, eyesight, and increase bone density, etc. Celery also containsFOLIC ACID(Folic acid is related to our memory) and potassium (potassium helps our heart and muscle problems). It also contains small amounts of vitamin C, vitamin B, calcium, magnesium and manganese.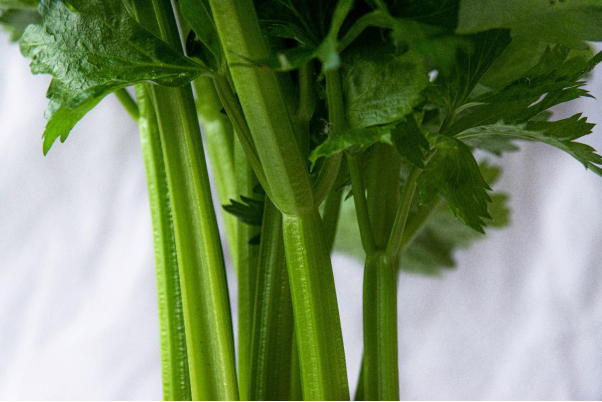 Added Benefits of Celery
A 2010 animal study suggested that phytonutrients in celery may prevent damage to the stomach lining.
Celery extract was used in a 2017 animal study suggesting an improvement in cognitive function and neuronal density in mice.
What About Celery Juice?
A variety of health claims have been made about celery juice in the last few years as it has been touted to help treat a wide variety of conditions. While consuming celery juice isn't harmful, there hasn't been enough human-research to back many of its beneficial claims.
Celery juice has already lost most of its fiber during processing, and fiber is a nutrient with high nutritional value. Plus, celery juice is high in oxalates, which can cause trouble for some people with weak kidneys.
Celery Facts
Celery leaves have the most calcium, potassium and vitamin C than the rest of the vegetable and are very edible.
Chop celery just before cooking or consuming as it loses nutrients quickly after being cut.
Despite what many think, celery is not a "negative calorie" food.
Celery can provoke severe allergic reactions in some people, similar to peanuts. Celery allergies are one the most common allergies in Europe.
In the 1960s, Jell-O offered celery-flavoured gelatin mix.
When celery was originally used as a medicinal plant, it was used to relieve discomfort such as insomnia and joint pain.
Celery's cultivation as food began in Italy and France in the 1600s.
One of the first mentions of celery in literature is within Homer's The Iliad.
Related Products: