As a pet lover, you want what's best for your furry friend. Paw by BLACKMORES offers some of the latest pet products to make our furry friends' lives easier and more enjoyable. 
Blackmores Paw supplements are specially formulated to support the health and vitality of your pet. Using their pet supplements now provides a convenient and affordable way to improve your pet's health without having to take them to the vet. Some of their popular pet supplements include those for joint health, skin and coat health, digestive health, and immunity. 
Read on and discover how you can leverage this brand's innovative solutions for your pet.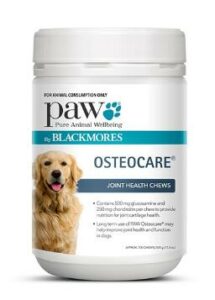 Pure Animal Wellbeing (PAW) is a Pet health supplement brand offered by Blackmores. Its parent brand, Blackmores, is a top Australian company that makes vitamins and supplements. The company is strongly committed to research and development and invests heavily in this area. Blackmores has a team of experts who develop new products and formulas that are based on the latest scientific evidence. Today, Blackmores is a trusted brand known for its quality products in Australia and beyond. 
For this brand, PAW was created as an opportunity to harness their experience into natural health solutions for pets. Paw Pet products also include supplements that can improve your pet's joints, skin, teeth, and overall health. These pet products are available in pet shops and online stores around the globe. 
Related: 5 Key Supplements You Should Buy For Your Dog
Popular Paw Pet Products for Joint Care
The Osterocare Chews is recommended for dogs that need maximum cartilage support for their joints. Its formula contains Glucosamine, Chondroitin, and MSM as its main ingredients. However, some antioxidant vitamins and minerals are also added to help reduce oxidative stress around joints.
You should consider this product if your pet suffers from joint inflammation. The Osterosupport pills contain a high concentration of 100% natural mussels capable of relieving joint pain inflammation, which may cause lameness and joint stiffness in pets. The active ingredients used in this unique formula are omega-3 fatty acids and chondroitin sulfate. You can also open the capsule and mix the contents with pet food for convenient administration.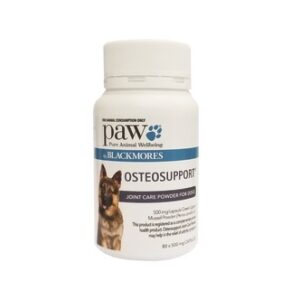 Popular Paw Pet Products for General Hygiene  
This antiseptic shampoo offers deep cleansing and deodorizing care for pets. It contains chamomile and coconut ingredients that moisturize and provide nutrition for the puppy's delicate skin. In addition, using this antiseptic formula will disinfect and prevent growth of disease-causing microorganisms on your pet's body.
This alcohol-free spray is designed to moisturize, refresh and detangle your pet's hair. It contains essential oils and emits a naturally fresh and pure fragrance that gives the pet a hair shine and healthy skin. Note that the product is suitable for adult dogs only.
Use the gentle cleaner once a week to clean your pet's ear canal and ears effectively. Its effective formula can dissolve and removes excess earwax within minutes with ease. Apart from this, the product is 100% safe and contains zero alcohol, artificial flavours and harmful chemical. The Gentle cleaner is also suitable for cats and dogs.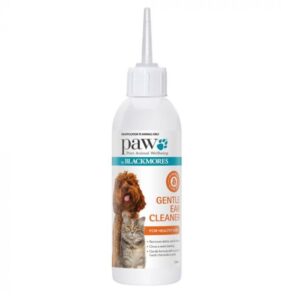 Popular Paw Pet Products for General Care
This Multivitamin Chew contains over 20 vitamins and minerals to enhance the beauty of pets. Giving this particular supplement to your dog will maintain their skin and nails and preserve their hair shine. Also, the chews made from kangaroo meat will surely make a delicious treat for your pet.
This product gives fast relief to dogs suffering from digestive and gastrointestinal problems. Its probiotic formula can also prevent antibiotic-related diarrhoea.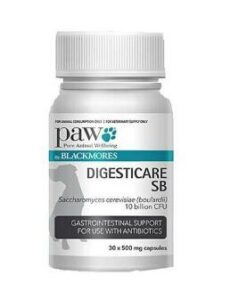 Where Can I Buy My PAW Pet Supplements? 
You can always get your PAW supplements from an online store, pharmacy or veterinary store. However, it is important that you buy a genuine product for your pet. That is why you need a trusted store like gogoherbs.com. Gogo Herbs has a strong focus on pet health. It offers its beloved customers only the best pet products with ingredient purity and quality.
Gogo Herbs is one of Hong Kong's fastest-growing online stores, providing customers with premium health and wellness products. We help customers with handpicked vitamins and minerals, herbal and functional food products that are pure and effective for overall health and wellness. Available supplements on the gogostore include quality products from some of the reputable health brands around the world. Our expert team selects each supplement for young and older adults living with mild or serious health challenges. All handpicked supplements are safe and legally certified.
Related Products: