Prevention is better than a cure, and the best way to maintain good health is to absorb nutrients from our food intake and maintain a regular habit of exercising. While building up a habit of exercising might depends on your self-driven motivation. You can always seek assistant from high-quality health supplements to obtain nutrients that you can hardly absorb from your dietary habit no matter how busy you are!
Tips on Choosing Health Supplement
The great variety of health supplement available on the market provide us with choices yet at the same time make it difficult for us to decide on which one to take. If self-care is listed to be your priority from today, why not go through these tips on choosing the precise health supplement?
Always Pick Natural Ingredients: You are what you eat. Prevent all those health supplements that contain artificial coloring, sweeteners, or preservatives. Instead, pick the health supplements that guarantee using only natural ingredients that you can trace its origin. Some

health supplement

brand even sources their product with self-grown herbs from their farm, so you can absorb all the natural goodness and nourish your body.
●Get Advice from the Nutritionists: We all have different physique constitutions, and our dietary habits vary, which means that we all have different nutritional needs. Although health supplements are no medicine and no doctor prescription is required, we suggest that you consult a nutritionist while picking the precise health supplement for your better health. Some health supplement selling platforms provide nutritionist consulting service, be sure you make use of such benefits!
Purchase through reliable channels: Make sure that you are purchasing all your health supplements from reliable platforms. Avoid making any buying decision based only on the price, as it is possible to buy counterfeits if you are purchasing from unknown sources.
How about Webber Naturals?
Webber Naturals, famous for its trust-worthy and full range of products, is one of the most world-known health supplement brands across North America. Webber Naturals offers a great variety of health supplements, and there is something to meet your needs!
Webber Naturals Review
Webber Naturals has hundreds of acres of organic farmland in British Columbia, Canada, where healthy and natural plants and herbs used in their supplements are grown. The harvested plant and herb are then hand-picked and blended with other carefully sourced ingredients to ensure that all their products are fresh and of the highest quality. Webber Naturals has also put people with different dietary habits into consideration while launching their products. Regardless of you are a vegetarian, a vegan, or are allergic to gluten, you can still find products that suit your dietary needs!
Classic Webber Naturals' Health Supplement Recommendations
When it comes to Webber Naturals, the most popular health supplements among users would be Webber Naturals' fish oil and Webber Naturals' glucosamine chondroitin. Let's take a look at the benefits and special features of these bestsellers!
Weibojian – Omega-3 Mini Fish Oil Capsules: Webber Naturals fish oil not only has no fishy smell, but also has fine particles that are easy to swallow and absorb. Its biggest feature is that it is made of fish oil extracted from deep-sea cold-water fish. The ingredients are pure natural, and the concentration and purity of unsaturated fatty acids EPA and DHA contained in them very high! Webber Naturals fish oil effectively promotes brain development, may help stabilize cholesterol and blood pressure, protect eye health and protect nervous system health.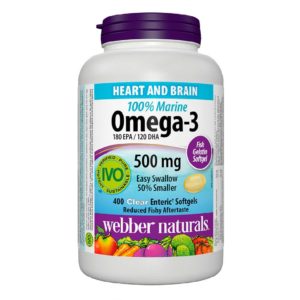 Weibojian – Glucosamine Chondroitin Capsules: Webber Naturals Glucosamine is rich in glucosamine and chondroitin, nourishes cartilage joints while promoting cartilage growth, protects cartilage, and relieves joint pressure! This all-natural formula will not irritate the stomach, and vitamin D3 is specially added to effectively relieve the discomfort caused by joint pain.