When the covid-19 related symptoms arise on you , you doubt about the infection, anxiously waiting for the official examination arrangement.you might as well take a self examination in advance as health care precaution.Among the numerous brands of Covid-19 rapid test kit,we suggest to select the brands approved on common list of Covid-19 antigen tests for personal use issued by European Commission.Gogo Herb here brings the qualified Abbott-Panbio Covid-19 antigen rapid test kit to you .It is suitable for people at any age.You can get the test result in 15 minutes.
What is Abbott-Panbio Covid-19 antigen rapid test tool ?
Abbott-Panbio Covid-19 antigen rapid test tool (Panbio™ COVID-19 Antigen Self-Test ) is a lateral flowimmunoassay tool used to detect SARS-CoV-2 nucleocapsid protein antigen in swab sample of middle nasal concha.
Certificates of Abbott-Panbio Covid-19 antigen rapid test tool
CE certified ,approved on the common list of covid-19 antigen tests issued by European Commission,acknowledged by WHO EUL, specially developed for asymptomatic testers.
Origin / research &development institution of Abbott-Panbio Covid-19 antigen rapid test tool.
Abbott-Panbio Covid-19 antigen rapid test tool is produced in Korea.Abbott has devoted to the industry for over 130 years since Dr. Wallace C. Abbott from Chicago started running his pharmacy.This mission is still carrying on.Abbott U.S.A has 107,000 profession and dedicated employees worldwide, providing revolutionary medical care in different countries and areas, Hongkong included.In over 55 years' practice,more than 200 hard working employees contributed to the medical care industry in Hongkong and improve the life quality of the citizens.Abott's business in Hongkong includes the study of angiocarpy, diabetes, medicine, diagnostics, informatics ,molecular medicine, neuroregulation and nutrition. Besides,Abotte endeavours to research the revolutionary technology and enhanced treatment of certain most complicated disease in the world.
Specification of Abbott-Panbio Covid-19 antigen rapid test tool
1 instruction pamphlet
1 test device
1 extraction tube
1 blue cap
1 buffer bottle
1 swab
1 bag
1 test-tube rack
4 superiority of Abbott-Panbio Covid-19 antigen rapid test tool
Result produced in 15 minutes
Simple usage
Comfortable nasal cavity sampling -only 2 cm depth of insertion.
Suitable for people of any age(teenager and children under 14 should test with assistance of an adult)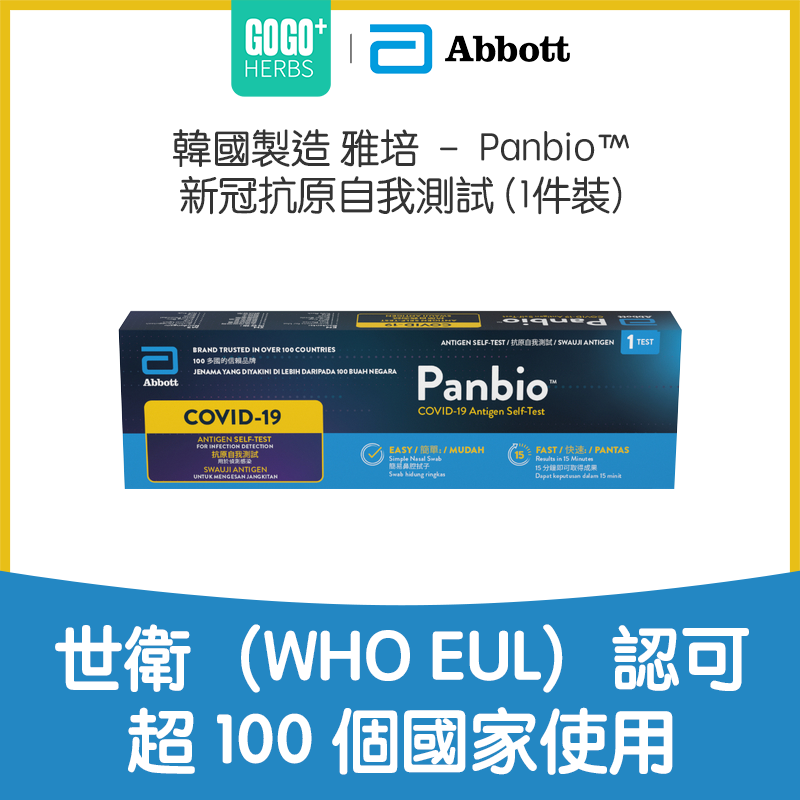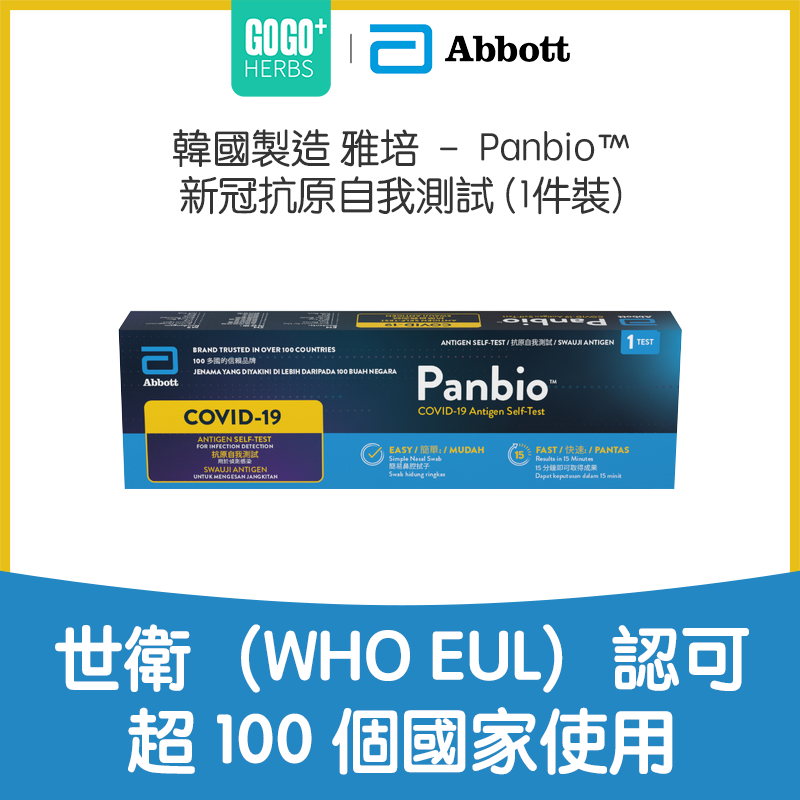 Test accuracy of Abbott-Panbio Covid-19 antigen rapid test tool
The Panbio™ COVID-19 Antigen Self-Test is verified to correctly identify 98.1% positive sample and 99.8% negative sample in clinical evaluation practiced by medical professionals.The test samples as previously inspected and categorized with RT-PCR examination for emergency purpose approved by FDA of U.S.A .
In the clinical assessment of 102 self testers, Panbio™ COVID-19 Antigen Self-Test can correctly identify 100% negative sample and 95.2% positive sample.The test result is successfully recognized by Abbott-Panbio Covid-19 antigen rapid test tool.
Application of Abbott-Panbio Covid-19 antigen rapid test tool
Suitable for the screening of asymptomatic infected people,symptomatic infected people within 7 days, people have recent contact of newly diagnosed patient(children under 14 should test under assistance of an adult.)
4 step to complete the test with Abbott-Panbio Covid-19 antigen rapid test tool
Sample through nasal cavity,rotate the sample swab in both nasal cavity respectively for 4-6times(around 15 seconds each)
Process the sample ,place the sample swab in antigen extraction tube and mix with the reagent.
Start the test,secure the blue cap on the tube and turn the tube up and down for several time. Drip the sample reagent into sample hole.
Start the timer for 15 minutes for the result,and compare with the result reference.
Test result reference of Abbott-Panbio Covid-19 antigen rapid test tool
Positive Results: If you see two lines of control (C) and test (T), you have detected COVID-19. (Check carefully! Any test (T) line, no matter how subtle, indicates a positive result)
Negative result: If you only see the control (C) line, no COVID-19 was detected.
Invalid test result(ineffective test):If no lines shows at [C], the test result goes invalid.This may be related to inappropriate practice of the test procedures.A new test is suggested with a new set of tool.
Notice of Abbott-Panbio Covid-19 antigen rapid test tool usage
Only applicable for in vitro examination
Read the instruction before practice and follow the procedure carefully to ensure the effective test result.
Do not smoke or eat when handling the sample.
Rinse hands thoroughly before and after the test.
Clean and sanitize the spill of liquid of test objects.
Pack the test sample ,reaction box ,and the material prone contaminated (sample swap ,extraction tube,test device ) in the provided bag.
Please proceed the test with the reagent provided in the buffer bottle as the only reagent.The use of other liquid will lead to the inaccurate test result.
Please store the test box beyond reach of children.
To avoid contamination ,please hold the device by both ends and make sure the tip of the swab only contacts with nasal cavity and the inside of the extraction tube.
The swab is only for collection of nasal cavity sample.
The test device ,swab,blue cap, buffer bottle and bag are for one-time use only.But the test tube rack is available for repeated use.
Do not dip the swab in buffer liquid or other liquid before insertion into nasal cavity.
The buffer bottle contains <0.1% of sodium azide as preservative,ingestion of the sodium azide may cause poisoning.If the buffer liquid accidentally contacts with eyes,please rinse at least 15 minutes with running water.If you still feel pain in the eye later ,please ask for medical treatment immediately.
If the test tool is stored in the freezer ,please keep the test tool in in-door(15°C-30°C) place and wait 30 minutes before you proceed the test.
Please don't use the test tool ,if the package bag is broken or unsealed.
The test should be proceeded soon as sample is taken.
Test result explanation of Abbott-Panbio Covid-19 antigen rapid test tool
Invalid test result can be caused by the inappropriate practice of the procedure.Please start a new test after 4 hours.
A positive test result indicated existence of virus protein in nasal cavity swab sample that contributes to Covid-19 infection .In this case,You might execute home quarantine and isolate yourself from your family to avoid spreading the disease.Other antigen combined infection could also lead to positive test result.Please abide by the local social-distance policy,stop the spreading of possible disease,and consult a doctor and the local heath department.
A negative test result usually indicates the unlikely infection of Covid-19.The false negative result should be warned of,even if the device discovers no antigen in your nasal cavity sample.False negative result may be raised by the following factors:
During the infection ,the amount of antigen may decrease by time.
At the infection phase before the symptoms arise,test result may appear negative.
The test is carrier out not following the instruction.
The failure of appropriate sample collection ,extraction and delivery.
If the symptoms related to Covid-19 infections continues,please take the test again in 1-2 days ,because the corona virus might not be detectable at early stage of the infection.Meanwhile please stay isolated and consult a doctor if necessary.
Abbott-Panbio Covid-19 antigen rapid test tool order here
[Covid-19 self test kit]YHLO/GOLDSITE/Green Spring/Hotgen/Abbott Panbio order online - Gogoherbs
News and articles related
Real-life validation of the Panbio™ COVID-19 antigen rapid test (Abbott) in community-dwelling subjects with symptoms of potential SARS-CoV-2 infection
Related Products: