Vitamin C is a water-soluble vitamin. This means that it cannot be stored in the body. So, humans need a constant, daily supply of it for normal growth and development. But just how much vitamin C per day should you aim for?
What is vitamin C?
Vitamin C, also known as ascorbic acid, is an essential nutrient found in many fruits and vegetables. It is necessary for the formation of skin, scar tissue, tendons, ligaments, and blood vessels. Vitamin C is also essential for the healing of wounds and for the repair and maintenance of cartilage, bones, and teeth. This vitamin can also help the body absorb iron and folate.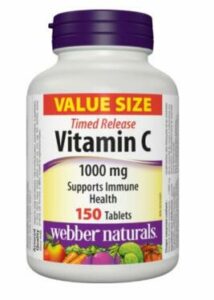 How Much Vitamin C Per Day Should I Be Taking?
Most people should be taking a minimum of 65 milligrams per day. But depending on your diet, lifestyle, and overall health, you may need to take anywhere from 200 to 2,000 milligrams of Vitamin C daily. An expert can determine the exact amount you need by analysing your diet, lifestyle, and health status.
How Much Vitamin C Per Day Do Children Need?
The recommended daily vitamin C intake for children aged 4 to 8 years old is 15 milligrams (mg) per day for boys and 12 mg per day for girls. A child's growth and gender should also determine how much Vitamin C per day they should take. For example, children aged 9 to 13 years old require 25 mg per day for boys and 21 mg per day for girls. When it comes to Vitamin C, it's best to get your children's daily doses through Vitamin C-rich foods. Fruits, like oranges, and vegetables, like peppers, are excellent sources of Vitamin C.
Related: Foods, Vitamins, and Supplements that Boost Your Immune System
How Much Vitamin C Per Day Should I Take As An Adult?
According to experts, adults aged 19 to 70 need 90 mg per day, while adults over 70 should get at least 120 mg per day. Men aged 19 to 30 need 95 mg daily, while women in the same age range need 75 mg.
How Much Vitamin C Per Day Should I Be Taking During Pregnancy?
The recommended amount of Vitamin C for pregnant women is 75-85 milligrams per day. However, breastfeeding women need a bit more – 120 mg per day. This amount should be taken from dietary sources like fruits and vegetables. Pregnant women can also take Vitamin C supplements as a secondary option. Vitamin C can also help prevent anaemia and certain birth defects.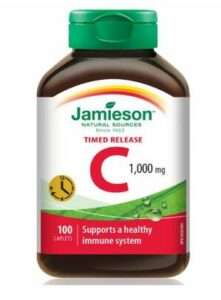 How Much Vitamin C Per Day Is Safe To Take?
Any dose between 200 to 2,000 milligrams daily is safe. However, it's important to note that too much vitamin C can also be harmful. So, do not take more than 2,000 mg per day to avoid potential side effects.
4 Recommended Vitamin C Supplements
Webber Health - Timed Release Vitamin C 1000mg Capsules: This product choice is a convenient, easy-to-swallow solution for your daily vitamin C needs. It is specially designed to ensure a steady supply of this essential nutrient. Each capsule contains 1000mg of vitamin C, which is slowly released into your body over 8 hours. Enjoy extra immunity support and better overall health with Webber Health Timed Release Vitamin C.
Jamieson – Timed Release Vitamin C 1000mg Tablets: Jamieson is a trusted choice for quality and efficacy. You should consider their Vitamin C Supplement because it provides a high-potency dose of this nutrient. The formula is made with naturally-sourced ingredients – rose hips, acerola cherry, and ascorbic acid. As an antioxidant, it supports immune health and promotes collagen formation for healthier-looking skin. Each tablet is non-GMO and gluten-free. They are also sugar-free, making them an optimal choice for anyone looking to supplement their vitamin C intake.
Kirkland Signature - Timed Release Vitamin C 1000mg Capsules:  With Kirkland Signature, you know you're getting a trusted, reliable product. The Timed Release Vitamin C 1000mg Capsules are a high-quality and affordable way to get your daily Vitamin C. It is designed to slowly release vitamin C for 8 hours, boosting absorption and reducing stomach irritation. The product is also made with non-GMO ingredients and is free of artificial colours, flavours and preservatives.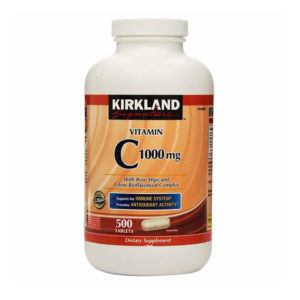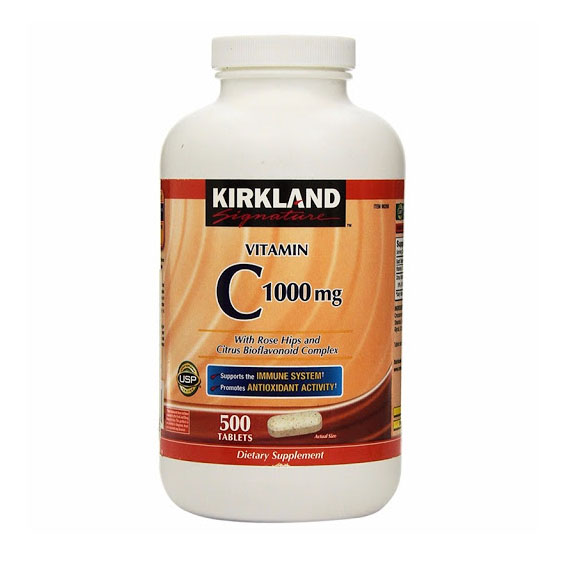 GNC – Vitamin C + Rosehip 1000mg Tablets: Get your daily dose of Vitamin C + Rosehip today and enjoy a delicious supplement from GNC! This nice orange-flavoured formula contains rosehip, echinacea, and citrus bioflavonoids to help maintain the health of your body. GNC is a global leader in nutritional supplements. So you can trust their Vitamin C + Rosehip products for quality and reliability.
Conclusion
It's important to get enough vitamin C in your diet each day. This is because it helps to support your health and well-being. However, how much vitamin C per day you should take varies based on age and gender. But generally, anything between 90 and 120 mg should be okay. Eating a variety of fruits and vegetables is the best way to get enough vitamin C. Taking vitamin C supplements is also a great way of supplying your body with this nutrient. Be it foods or supplements, make sure not to exceed 2,000 mg per day to avoid possible side effects.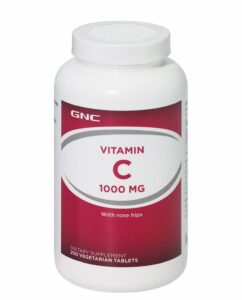 Gogo Herbs is one of Hong Kong's fastest-growing online stores, providing customers with premium health and wellness products. We help customers with handpicked vitamins and minerals, herbal and functional food products that are pure and effective for overall health and wellness. Available supplements on the gogostore include quality products from some of the reputable health brands around the world. Our expert team selects each supplement for young and older adults living with mild or serious health challenges. All handpicked supplements are safe and legally certified.
Related Products: