Do you have joint pain? Don't worry, bone problems are actually very common in Hong Kong. As long as the bone nutrition is supplemented in a timely manner, related diseases can be effectively prevented and treated. If you are concerned about bone health, you must need to know what glucosamine is and its functions. In this article, Gogo Herbs will explain in detail what positive effects glucosamine has on bone health.
1) What is glucosamine?
Glucosamine is one of the components of articular cartilage in the human body. It has the function of stimulating the synthesis of proteoglycan and the secretion of joint synovial fluid.
When we are young, our bodies can produce enough glucosamine on their own to maintain bone health, but as we age, the body's production of glucosamine gradually slows down. The lack of glucosamine will affect the composition of the synovial fluid between bones. If the synovial fluid (Synovial) in the joint is insufficient, the cartilage between the joints will have friction, which will induce joint degeneration and pain in the long run. Therefore, as we grow older, it is very important to supplement glucosamine. Sufficient intake of glucosamine can help promote the production of articular chondroitin and synovial fluid, as well as repair damaged cartilage tissue. It is especially beneficial for people with joint health problems help.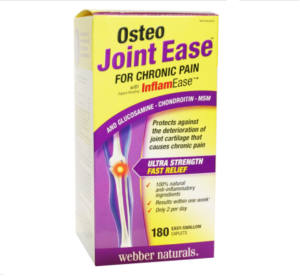 2) How to choose glucosamine supplements?
Glucosamine can also be found in animals. Many glucosamine supplements are extracted from natural ingredients, including the shells of shrimp and crabs.
Shrimp shells and crab shells contain a lot of chitosan and chitin, which are macromolecular polymers of glucosamine. However, because the human bodies cannot absorb and use them. Therefore, it is difficult to absorb enough glucosamine from related foods. The natural glucosamine supplements are mostly extracted from shrimp shells and crab shells, or fermented from mushrooms and bacteria, which can be directly absorbed by the body.
Besides natural ingredients, there are chemically synthesized glucosamine supplements too. However, due to the process of natural extracted glucosamine, it is more similar to the body structure and easier to be absorbed, so you should always choose natural glucosamine supplements.
3) What types of glucosamine supplements are there?
The more common glucosamine supplements on the market can be divided into two categories: glucosamine sulfate and glucosamine hydrochloride (HCl). The former is listed as a prescription drug by the Department of Health and must be prescribed by a professional doctor before taking it. The glucosamine hydrochloride is a food-grade nutritional supplement, which is the general supplement.
4) Are there any side effects from taking glucosamine?
Under normal situations, taking natural glucosamine supplements is safe. However, since most of the glucosamine supplements are extracted from shrimps and crabs, people who are allergic to related ingredients should pay more attention.
Looking for a glucosamine supplement? Gogo Herbs can help you!
After reading this article, do you have a deeper understanding of glucosamine and bone health? There are a variety of glucosamine supplements on the Gogo Herbs platform, with a complete range of products with different formulas, such as pure glucosamine, glucosamine, and chondroitin. No matter which bone or joint health problems you are facing, you can use our platform Find the product that suits you. Click hereBuy glucosamine supplement.
If you have any doubts about what products you need, feel free to contact our specialists to tailor a personalized nutrition plan for you!
Related Products: