Since the outbreak of Covid-19 pandemic,people get used to waiting in long line at the test station in every district for nucleic acid test. An rapid antigen test kit is necessary for every family under the pandemic normalization circumstance. It not only saves you the trouble of congesting in a crowd but also decrease the risk of infection of close contact of a bunch of strangers. There are many self-test products for Covid-19 ,some brands are underqualified, some has limited accuracy.Gogo herbs recommends GREEN SPRING rapid test kit,this is atest kitwith many international certification.It's easy to use and the test effect is satisfying .
What is GREEN SPRING Covid-19 rapid test kit.
GREEN SPRING-SARS-CoV-2 antigen rapid test kithas acquired the CE certificate and it's listed on the comment list of European Commission. It applies to the detection of Delta and Omicron with an accuracy of 96.8% and specificity of 100%.The test result only takes 20 minutes to achieve,providing convenience test to people who ever travelled to areas with high infection risk ,asymptomatic but worry about being infected ,people with suspicious infected symptoms and people in need to conduct regular daily self test.
Laboratory basis of GREEN SPRING Covid-19 rapid test kit
This test kit exerts Colloidal gold immunochromatography technique to detect Covid-19 antigen. The murine 2019nCoV antibody α is marked at Colloidal gold particle.The test line T is covered with murine 2019nCoV antibody β and the QC line C is covered with Anti-MIgG.When the Covid-19 antigen in the sample compounded with antibody α on the colloidal gold , new complex is formed. The complex through liquid chromatography goes past the test line T and will be captured by the the coverage murine 2019nCoV antibody β.The massive accumulation of gold particle generates red strip by Test line T. When the balance Colloidal gold marker goes past QC line C and combines with Anti-MIgG, the massive accumulation forms a red stripe.If there exists no Covid-19 antigen in the sample ,murine 2019nCoV antibody α marked on Colloidal gold only forms red stripe at QC line C .
Qualifications acquired by GREEN SPRING Covid-19test kit
The international standard authentication ISO9001 certification
The international standard authentication ISO13485 certification
Acknowledged as BfArM(Germany) approval antigen test for professional and self test use
PEI authentication certification
Common list of EU and list of mutual recognition(free move) EU
Common list of Belgium, Austria,Italy,Swiss and Thailand
Registration certification of The Britain,Cambodia,Holland and Spain.
Kenya authorization of emergency use
Certification of Malaysia self test
Free sales certificate of United Arab Emirates and Saudi Arabic
CE certificate
Origin and R&D Institution of GREEN SPRING Covid-19 test kit
Green Spring Biotechnology Co.,Ltd was founded in 2003 by a senior scholar who had studied in USA for many years.It's a high tech company specializing in the R&D ,production ,sales ,service and informatization establishment of food and drug safety,clinical diagnosis,animal diagnosis reagent and other area related to public health.The business maintains long-term and close association with a number of top universities and biotech Institute and hospitals,such as The Third Affiliated Hospital of Sun Yat-sen University,China Agricultural University,Huazhong Agricultural University,South China Agricultural University, Guangdong University of Technology,Harbin Veterinary Research Institute.Their main business consists of the development of the most advanced food safety test reagent,human disease diagnosis reagent,animal disease diagnosis reagent,environment monitoring reagent,new enzyme additive, microorganism additive , protein product, nucleotide products, small-molecule antigen&antibody , gene recombination antigen & antibody and other chemical products. They are committed to providing excellent products and service to the world and the international industrialization of biological agents with their advanced international corporation management concept, outstanding R&d ability , standardized production ,complete sales network ,mature technology and service system and broad cooperation nationally and internationally.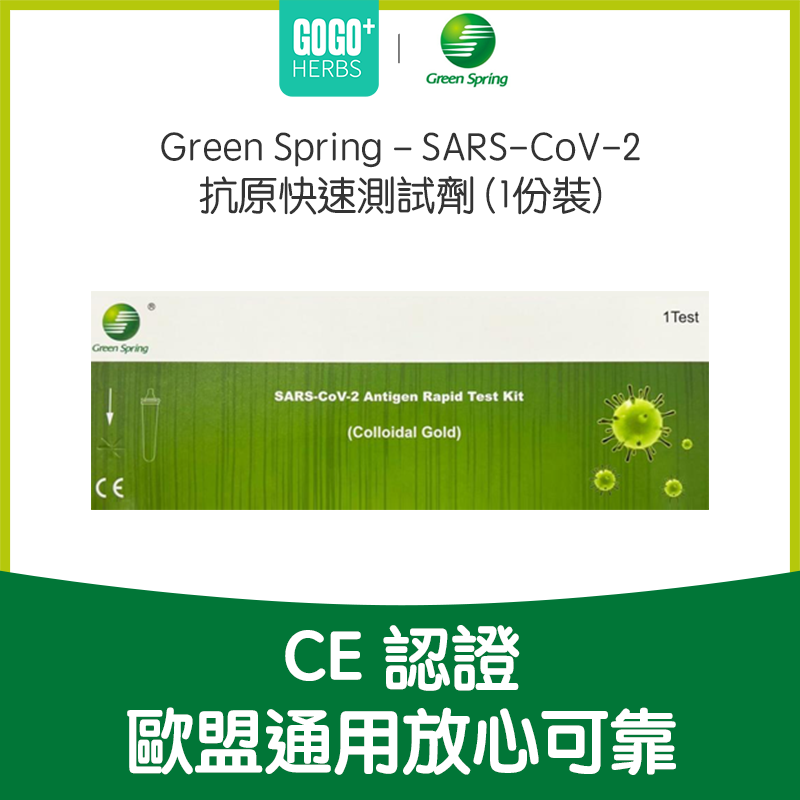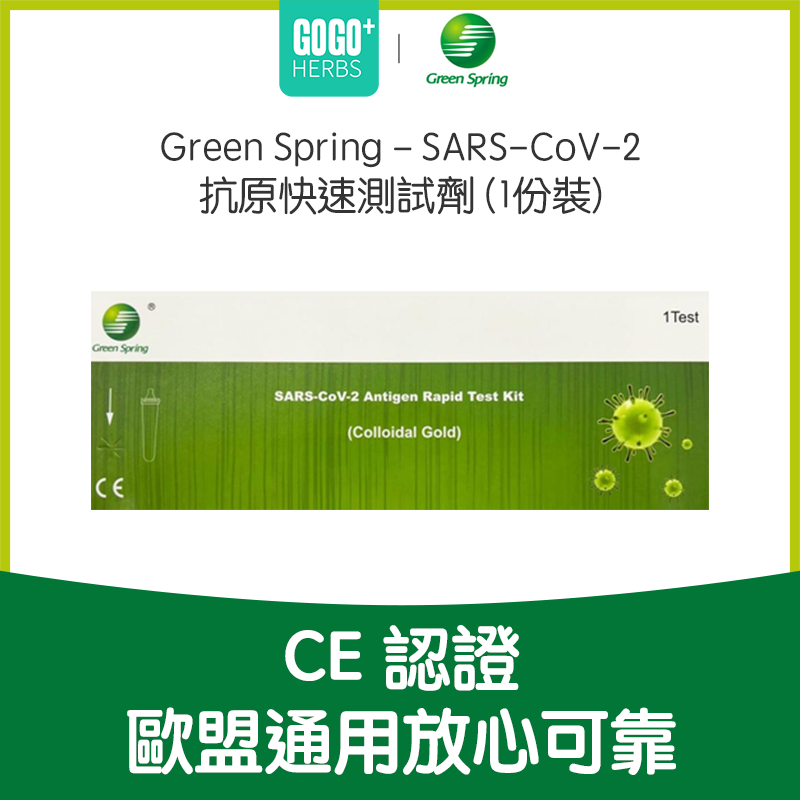 Contents in GREEN SRPING Covid-19 rapid test kit
1 nostril sample swab
1 nostril fluid collector
1 test device
1 instruction booklet
Feature of GREEN SRPING Covid-19 rapid test kit
Test by nostril fluid sample
Compete a test within 15-20 minutes
Applicable for detetion of the pandemic Omicron and Delta and other virus mutation
Test Accuracy of GREEN SRPING Covid-19 rapid test kit
Accurate rate: 96.77%
Specificity:100%
Targeted test group of GREEN SRPING Covid-19 rapid test kit
People recently have been to areas of high infection risk,people without any symptoms but are afraid of infection,suspicious infected people and routine self test for work purpose.
How to use GREEN SRPING Covid-19 rapid test kit
Collect sample in nostril or throat (refer to instruction guidance)
Place the sample swab in reagent and stir for 6 times or more .Leave the reagent still for 1 minutes
drip 3 drops into the test reagent with sample
wait 15-20 minutes(the waiting time shouldn't be less than 15 minutes or more than 20 minutes)
GREEN SPRING Covid-19 rapid test kitresult reference
Positive :Totally 2 stripes show separately at comparison section [C] and test section [T] in the result window.
Negative:Comparison section [C] show a colored stripe and no stripe shows at test section [T]
Invalid test :Comparison line shows nothing due to inadequate sample volume or inappropriate practice. In this case please review the intruction and take a test all over again with a new test kit.
Cautions of GREEN SPRING Covid-19 rapid test kit
The test result does not suffice for health code application or other application for travel purpose.
The rapid test result is subject to mandatory test result, negative test result at the test device does not exclude possibility of infection.
Once the tester test positive ,he should consult a doctor and seek for medical care soon as possible.
Advice on GREEN SPRING Covid-19 rapid test kitresult
If the test result comes out positive ,citizen should consult a doctor and seek for medical care soon as possible.
Click and buy here:GREEN SPRING Covid-19 rapid test kit
[Covid -19 rapid self test kit] YHLO/GOLDSITE/Green Spring/Hotgen/Abbott Panbio - Gogoherbs
GREEN SPRING SARS-COV-2 ANTIGEN RAPID TEST KIT (COLLOIDAL GOLD)
Related Products: