The creation of fast, easy-to-use and reliable test kits has really helped to slow the spread of coronavirus. Before, a person may need to go to the medical laboratory and spend hours doing a COVID test. Nowadays, within 15-30 minutes of testing, a person can know his COVID-19 status. If a result indicates "positive", a person may seek medical attention and isolate himself from other members of the public. Thankfully, there are now many rapid antigen detection kits available on the market. Everyone is advised to do a test twice a week, every 3 to 4 days. This article provides a step-by-step guide on what you should do when using a self-test detection kit.
Related: Hong Kong COVID: 4 Ways You Can Boost Your Immunity during the Pandemic
Advantages of Using a Self-Test Detection Kit
Easy-to-use. No skills required.
It is very fast. Expect results within 12 – 30 minutes.  
It is very affordable.
The test is authorised for non-prescription home use. You can always buy it in the pharmacy, chemist or grocery store.
Using a self-test detection kit is very reliable. It provides up to 98% test accuracy.
How Does A Self-Test Detection Kit Work? 
A rapid antigen detection kit works just like a pregnancy test kit. It uses a technology called Lateral flow assays (LFAs). This technology detects a particular protein called "nucleocapsid" in a test sample and reveals whether a person is infected or not.
What Can I Find Inside A Rapid Antigen Detection Kit? 
You may find the following inside a Self-Test Detection Kit.  
A swab inside a sealed wrapper
Rapid test strip (A Detection device)
Extraction bottle (A sealed container with liquid)
An extraction tube. ( Usually an empty tube)
Recommended Test kit: YHLO – GLINE-2019-nCOV AG rapid original test kit- an EU certified testing kit with 99.56% testing accuracy. The product is suitable for users above 2 years and can easily detect "Omicron" and "Delta variant" viruses. It works perfectly even if you're fully vaccinated or have previously already had coronavirus. Expect a precise result within 15 minutes.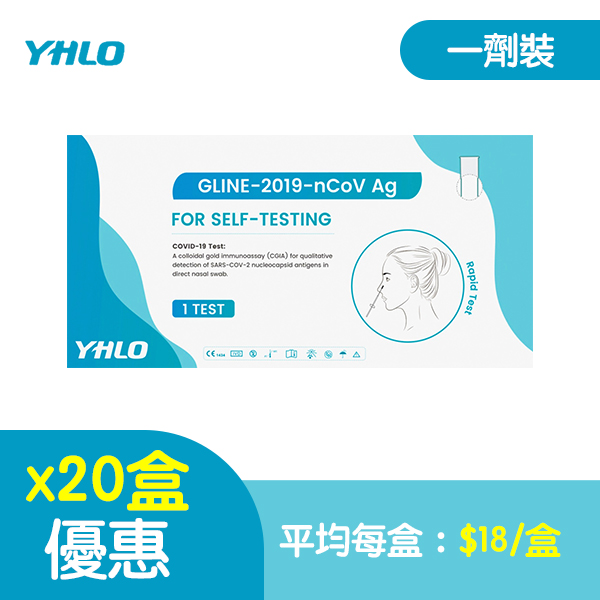 TEST INSTRUCTIONS
Follow the following steps to use a COVID-19 Detection Kit.
Before You Take The Test. 
Kindly find a flat surface space in your home and clean it with a wipe. You need this to keep your equipment upright and prevent spillage.
All test kits usually come with an instruction label. Make sure you read the instructions carefully.
Ensure that the swab and extraction solution is not damaged, broken or out of date.
Wash your hands thoroughly for 20 seconds, using soap and warm water or a hand sanitiser.
Unpack the sealed test equipment and place onto the clean flat surface. 
 Prepare For The Test. 
Gently blow your nose into a tissue to get rid of excess mucus.
Wash and dry your hands again or use a hand sanitiser. 
Unwrap the sealed swab in front of you. Make sure you hold the swab by the handle. Do not touch the soft fabric tip. 
Put the extraction tube in a small cup to keep it upright.
Open the sealed container with liquid.
Pour 6 drops of liquid into the extraction tube.
Take Your Swab Sample 
Try to remain calm. It is normal to feel some discomfort at this stage.
Pick the swab gently by holding the handle. Do not touch the tip of the swab.
Put the swab gently into one nostril. Roll the swab 10 times around the nostril. Remove the swab and repeat on the other nostril.
Now put the tip of the swab into the bottom of the extraction tube.
Press the swab head against the edge of the tube while rotating the swab around the tube for 10 seconds. This helps to squeeze as much fluid out as possible.
Take out the swab while squeezing the tube and fabric end of the swab. Then dispose of it immediately.
Pour 3 drops of liquid from the tube into the sample port of the detection device.
Wait for 30 minutes to read your result.
Read Your Result 
There are usually two letters, "C" and "T", located next to an indicator at the front of your detection device.   
If two lines (even faint lines) appear next to "C" and "T" on your detection device, it indicates the test is positive.
If one line appears next to "C" only, this indicates the test is negative.
If no line appears, or one line appears next to "T" only, the test is invalid. You should retake following the steps above. If your test indicates positive, make sure you should see a doctor immediately. 
Recommended Test kit: GOLDSITE – Novel Coronavirus Antigen Rapid Test Reagent – affordable and high-accuracy test kit for the family. EU certified and produced with high-end materials. The product makes a perfect handy help to everyone in high-risk areas who seek daily self-examination.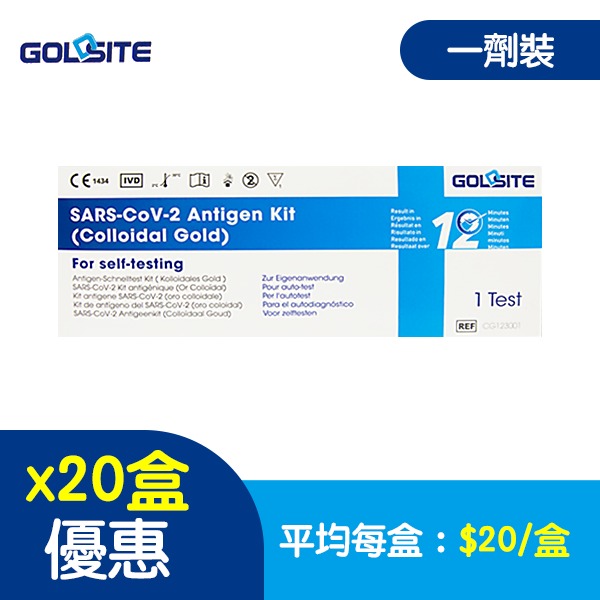 Mistakes You Should Avoid
1.Do not reuse any test component.
2.Do not ingest extraction liquid.
3.Keep test kits and components out of the reach of children and pets before and after use.
4.Avoid contact with skin and eyes while taking a test.
5.Do not use an antigen detection kit for a child under 2 years old.
Gogo Herbs is one of Hong Kong's fastest-growing online stores, providing customers with premium health and wellness products. We help customers with handpicked vitamins and minerals, herbal and functional food products that are pure and effective for overall health and wellness. Available supplements on the gogostore include quality products from some of the reputable health brands around the world. Our expert team selects each supplement for young and older adults living with mild or serious health challenges. All handpicked supplements are safe and legally certified.