Most times, when your dog hops, skips or limps, something is probably wrong with their joint. This is because dogs live an active lifestyle that exposes their joints to severe falls and impacts as they play around. Today, there are special joint supplements designed to strengthen the muscles and joints of your dogs. These products can do so by promoting lubrication and cartilage support within your pet's joints. So, regularly giving your dog a joint treat could ease the pain and discomfort they suffer from their normal daily exercise and activity.
Experiments suggest that ingredients used for human joint supplements can also work in the joints of dogs. This is why many joint supplements for dogs contain powerful active ingredients like Glucosamine, Chondroitin, MSM, Creatine, EPA, DHA, Vitamin C, and Zinc. These powerful active ingredients are blended with meat flavours to create a tasty soft chew that enhances bone and joint health.
This article recommends some of the best joint supplements worth considering for your dog. It also provides helpful insight into maintaining proper joint health in Dogs.
Related: 5 Key Supplements You Should Buy For Your Dog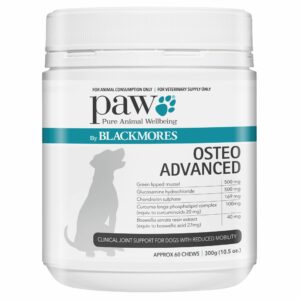 What Are The Causes Of Joint Diseases In Dogs?
A.Gene: Some joint diseases in dogs are hereditary.
B.Nutrition: Overfeeding your dog with excess Calcium or Vitamin D can cause joint problems. Studies suggest excess Calcium or Vitamin D interferes with normal bone growth and cartilage development.
C.Overweight: Overfeeding promotes too-fast growth, which could strain a puppy's developing bones and joints.
D.Too much Exercise:  Intense exercise can cause falls and dislocations, which may affect bones and joints.
Recommended Joint Supplements for Dogs
This supplement is a special glucosamine and chondroitin joint solution for pets. Its formula features a unique combination of Green Lipped Mussel, Curcumin and Boswellia to provide anti-inflammatory support and relieve for arthritis symptoms in dogs. Regular use of this product could provide rapid improvement in dogs with limited mobility. For best results, give chews as recommended on the product label.
Your dogs can also enjoy the joint healing benefits of Mussels. This choice helps your dog maintain healthy bone, connective tissue, and joint structure and function. It is an excellent option for pets experiencing pain and discomfort while walking around daily. The key ingredient, mussels, promotes omega-3 fatty acids (EPA, ETA, DHA), which can help relieve joint pain and soothe inflammation.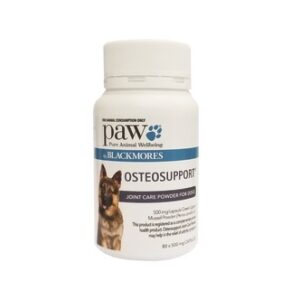 A tantalizing meaty chew designed to help dogs with joint stiffness after normal daily exercise and activity. Its primary ingredients include 500 mg of glucosamine and 250 mg of chondroitin, combined for extra support of the structural integrity of joints and connective tissues. With a blend of other added vitamins, minerals, and antioxidants, this product targets every aspect of your dog's muscles and joints and makes them whole.
A Made-in-Hong Kong unique product produced from 100% pure natural Chinese medicines. Its formula combines interesting ingredients used by ancient Chinese to relieve joint pain. Additionally, the herbal formula can also nourish the liver and kidney and enhance physical fitness. Due to its high pain dogs with relieving effect, this product is recommended for dogs with severe joint, muscle and bone problems. The same applies to dogs recovering from orthopaedic surgery.
Tips to Preserve Joint Health In Dogs.
a)Monitor The Feeding Of Your Dogs: give them a measured amount of food, divided into two or three meals per day.
b)Practice Regular, Mild-To-Moderate Exercise: your dog's exercise should be gentle and fairly brief. Be especially careful to avoid anything that involves jumping.
c)Avoid slippery floors around the home. Consider putting down carpet runners on slick floors.
d)Stairs are often difficult for puppies or dogs with short legs. In that case, set up your dog's bed and eating area on the first floor, so he doesn't have to climb stairs as often.
e)Give your dog a joint supplement regularly. Roughly half of dogs with joint pain seem to be in less pain when they take glucosamine/chondroitin sulfate supplements.
f)Some physical therapies like hydrotherapy and massage promote joint health in dogs.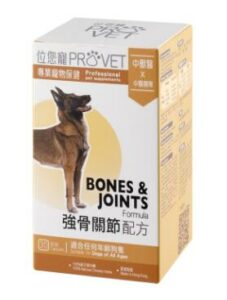 Gogo Herbs is one of Hong Kong's fastest-growing online stores, providing customers with premium health and wellness products. We help customers with handpicked vitamins and minerals, herbal and functional food products that are pure and effective for overall health and wellness. Available supplements on the gogostore include quality products from some of the reputable health brands around the world. Our expert team selects each supplement for young and older adults living with mild or serious health challenges. All handpicked supplements are safe and legally certified.
Related Products: