Eyes are an important part of the body. Good vision can improve our living conditions and help us appreciate the beautiful surroundings. In addition, food can also affect our eye health. Studies have found that eating more egg yolks and some fruits and vegetables can help protect eyesight. Research has noticed that these foods contain a special carotenoid——Lutein. This carotenoid is naturally stored in the eyes, but its levels gradually decrease as we age. Low lutein content may lead to diseases such as eye aging, fatigue or poor vision. Therefore, in order to have healthy eyesight, it is recommended to eat more foods rich in lutein.
Related: Health Benefits of Lutein and How to Take Lutein
What is Lutein?
First and foremost, lutein is a carotenoid. Carotenoids are colourful pigments responsible for red or yellow colours in the fruits and vegetables you eat. Carotenoids provide many benefits to human health. They have antioxidant properties, which strengthens the immune system and reduce the risk of diseases. Lutein is a "yellow" antioxidant carotenoid that is naturally stored in our retina and eye lens. This compound forms the pigments found in the yellow spot of the retina, which helps to protect our eyes from harmful blue light rays and free radicals.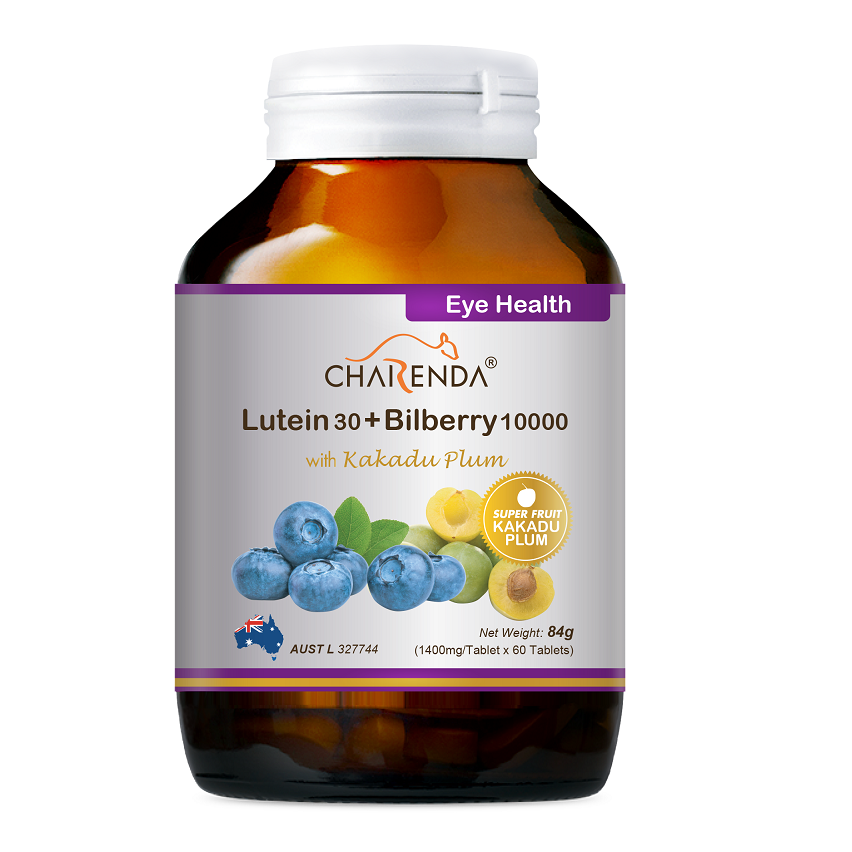 Why Do We Need To Eat Lutein Rich Foods?
Because lutein cannot be synthesized automatically in the body and its levels can decrease due to factors such as oxidative stress, aging and unhealthy habits such as smoking, we need to obtain lutein from food and dietary supplements . Studies have shown that we consume an average of 1-3mg of lutein daily from our diet, but this is not enough to maintain our eye health, especially for the elderly. Surveys have shown that an average daily intake of 6 mg of lutein can prevent or slow down age-related central vision decline in the elderly. In addition to taking supplements, the common fruits and vegetables around us are also rich in lutein.
Foods High In Lutein
Asparagus
Spinach
Kale
Green beans
Peppers
Tomato
Lettuce
Broccoli
Parsley
Corn
Pistachio nuts
Whole Egg
Egg yolks
How Does Lutein Preserve The Eye?
High accumulation of lutein in the retina helps the eye to form the "yellowish" retinal macular pigment. This yellow spot filters blue light and neutralizes harmful free radicals that may be caused by oxidative stress. As a macular pigment, lutein spreads around the retina to improve visual acuity and eyesight.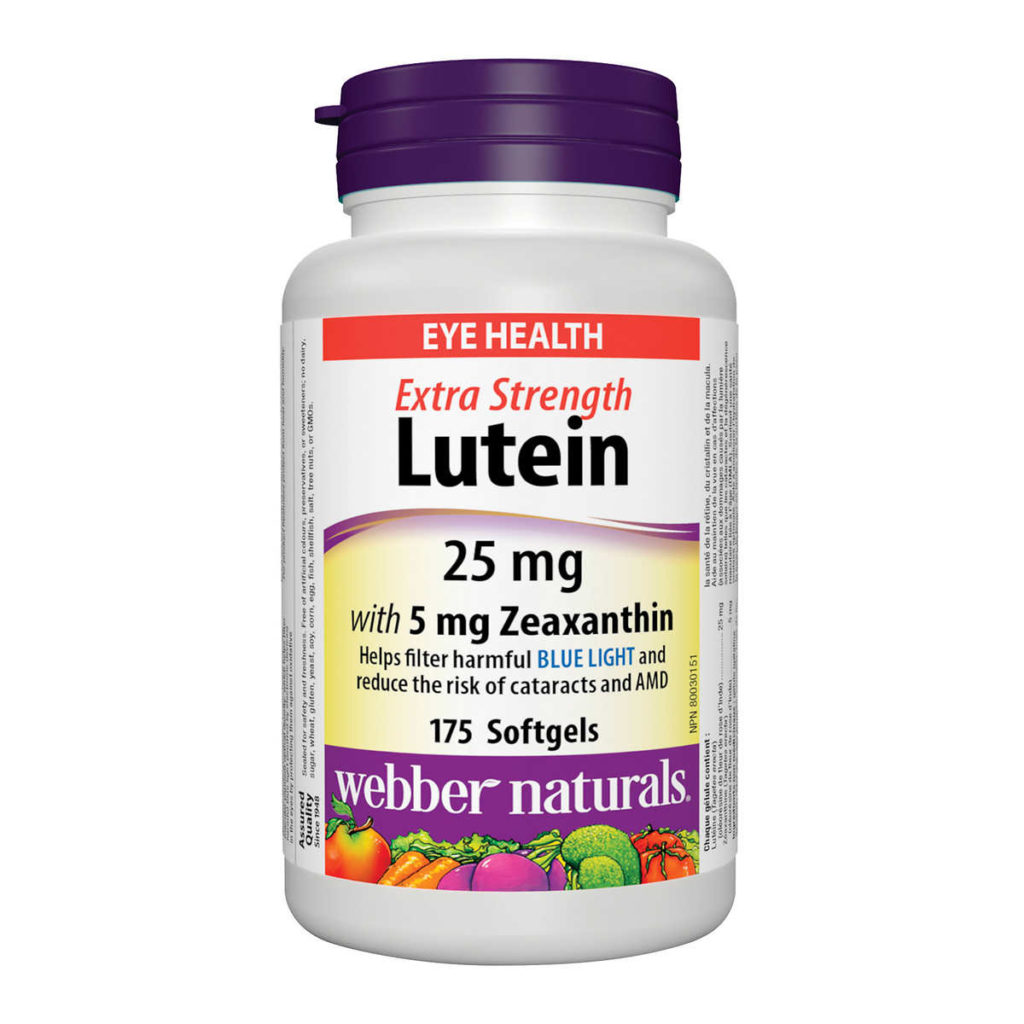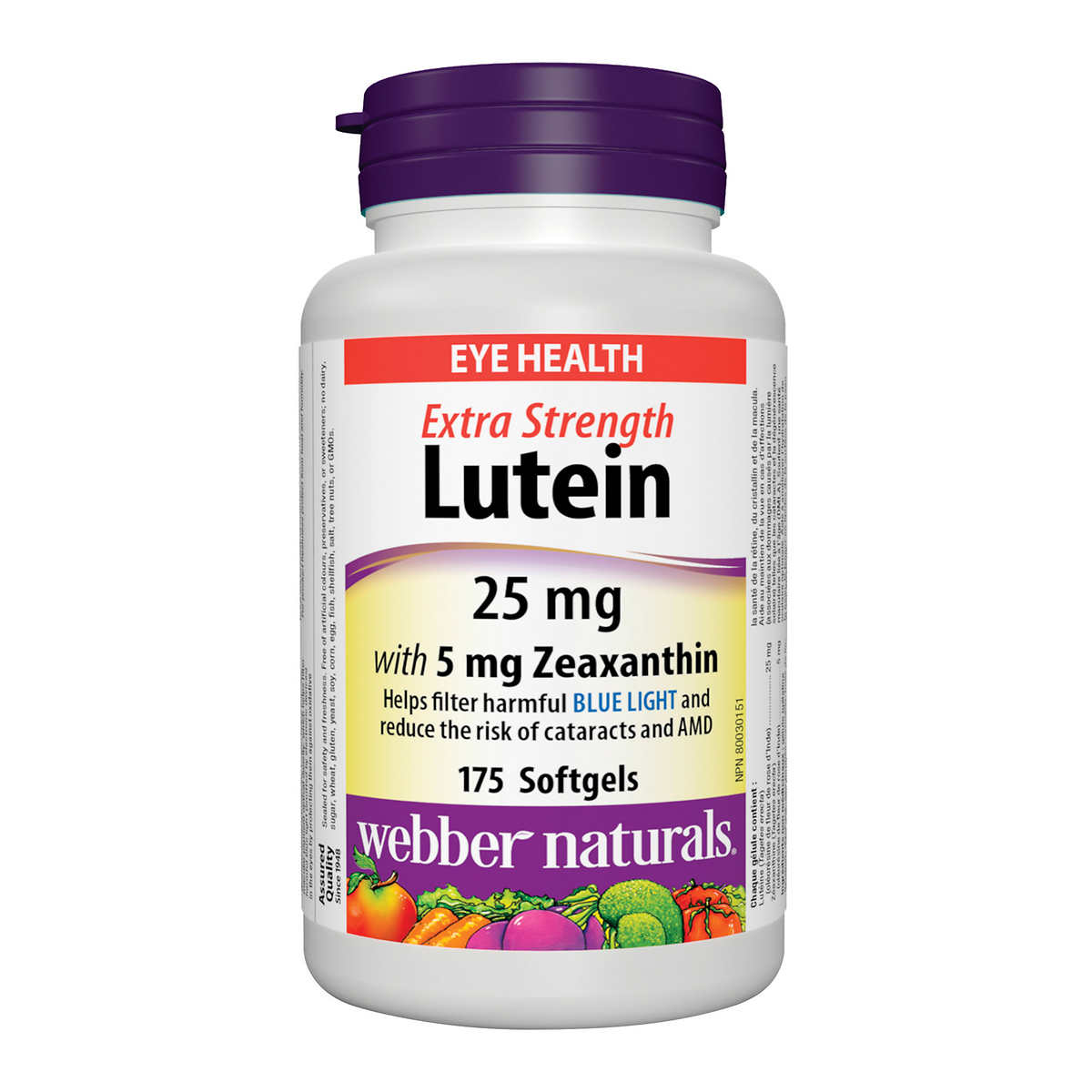 Recommended Lutein Supplements 
Related: Are Webber Naturals Lutein The Best Lutein Supplements?
Webber Naturals Lutein & Zeaxanthin Softgels
Webber Naturals is one of the first companies to look out for if you seek a quality lutein product. This brand has proved to be an expert in eye formula and currently has over five different Lutein products on the market. Its Lutein and Zeaxanthin softgel is a very effective choice to help the eye absorb sunlight and blue light and relieve eye fatigue.
The Charenda Lutein and Blueberry Concentrated Tablets
The product is perfect for young adults who experience eye stress every day. It is a rich eye blend designed to relieve eye fatigue and maintain healthy, clear vision. The Australian brand uses lutein extracted from Marigold and combines it with other eye-enhancing ingredients such as Bilberry, Kakadu Plum and vitamin C.
Jamieson Extra Strength Eye Capsules
These Extra Strength Eye capsules are the perfect choice to keep your eyes in check. Each capsule contains 20mg of lutein combined with zeaxanthin to improve eye fatigue, promote night vision, and maintain the sensitivity and clarity of vision. This Canadian choice is premium, and its capsules are highly bioavailable, especially when taken with a meal containing oil or fat.   
Note: Research suggests that taking lutein capsules with a meal containing oil or fat increases the absorption of this nutrient into the body. For this reason, it is advised to add fats in the form of a salad dressing or cooking oil in the same meal with your Lutein foods and vegetables.
Gogo Herbs is one of Hong Kong's fastest growing online stores, offering premium health and wellness products to residents nationwide. They help customers with handpicked vitamins and minerals, herbal and functional food products that are pure and effective for overall health and wellness. Available Lutein supplements on the gogostore include quality products from some of the reputable health brands. The Gogo Herbs expert team selects each supplement for young and older adults living with mild or serious eye challenges. All handpicked supplements support high visual performance and provide antioxidant protection against eye ageing.