Currently, Centrum has a wide range of men and women multivitamin supplements for all adults of specific ages. These products are special because they contain key nutrients to support the health needs of adult men and women. Recently, centrum multivitamins have gathered a lot of positive attention among adult customers, especially men and women over 50. The secret is that Centrum men and women multivitamins are designed to solve health needs and deficiencies which the body may face during adulthood. Each formula contains nutrients to support health concerns particular to women and men at different ages. These health concerns include immunity support, vitality support, post-menopausal health, bone strength, anti-ageing and so on.
As a top brand on the market, every adult deserves to consider Centrum multivitamins anytime they need a supplement to support their health.
Related: Centrum Multivitamin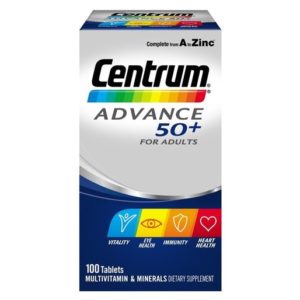 Who Is Centrum?
Centrum is an American brand of multivitamins. In 1978, this brand released its first set of multivitamins into the market. Since then, Centrum has grown into a top reliable choice for customers worldwide. Centrum is popularly known for its collection of special multivitamin products for men and women. As a result, many doctors and pharmacists recommend centrum adult supplements for effective health and nutritional support.
Why Should I Buy Centrum Adults Multivitamins?  
Centrum has over 40 years of experience designing quality multivitamins. Each of their multivitamin formula and minerals is backed by over 35 years of research in nutritional science. To cap it all, they are also the world's most clinically studied multivitamin brand. All statistics show that Centrum products are pure and reliable and have proved very effective for adults. So, when you buy a centrum adult multivitamin, be sure of a potent product made some of the best experts in the industry.
Top (5) Centrum Multivitamins for Adults
1.Centrum - Men Complete Multivitamin Tablets (Under 50)
The formula is specially made for men's energy needs and overall energy support. This product includes all 13 essential vitamins and 13 essential minerals. Iron and B vitamins are added to boost energy and metabolism. It also contains antioxidant vitamins C and E and the mineral zinc to boost the immune system. Other benefits include heart and brain health with B vitamins and vitamins A, C and E for eye health.
2.Centrum - Women Complete Multivitamin Tablets (Under 50)
This Centrum Women Multivitamin provides nutrients to support a woman's healthy body and fight against ageing. The formula is also designed to promote energy, strong bones and metabolism. Like the men's version, it contains over 10 essential vitamins and 10 essential minerals. Antioxidant vitamins C and E help to slow ageing and preserve the appearance of teeth and skin.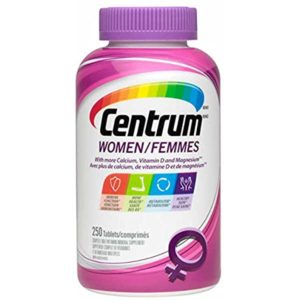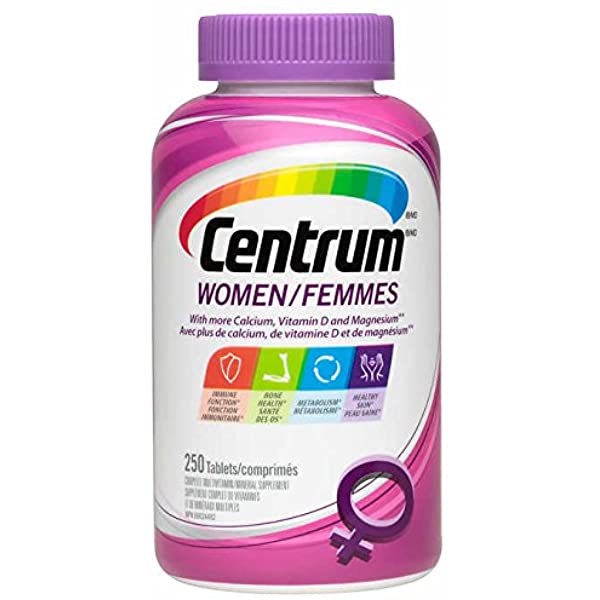 3.Centrum - Men 50+ Complete Multivitamin
This product addresses the specific health needs of adult men over 50, and for vitality support, it contains vitamins B2 and B5 to help release energy from food and boost metabolism. Its formula includes vitamin C, zinc, copper and selenium to help maintain the normal function of the immune system. Nutrients like vitamins A and B2 support vision health in older adults. The vitamin B1 in the formula may support normal heart function.
4.Centrum - Women 50+ Complete Multivitamin
For women over 50, this is a special product, high in calcium, vitamin D and vitamin K, which help maintain normal bone strengthening. The formula is also enriched with vitamins B2 and B5 which help boost metabolism and prevent weakness. Added nutrients like Vitamin C and Zinc Copper Selenium for immune support.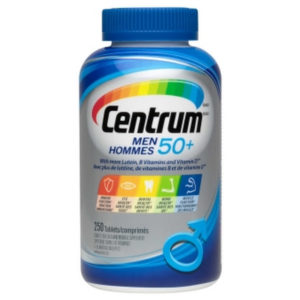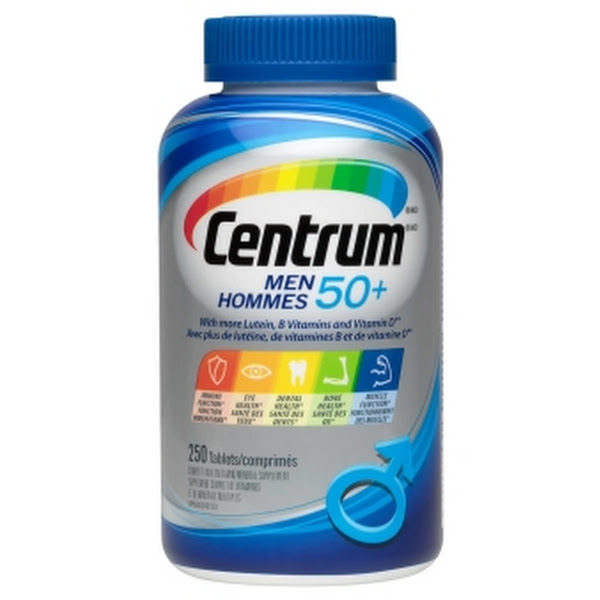 5.Centrum - Advance 50+ Multivitamins & Minerals 
This product is made for all adults above 50+. It supplies older adults with basic nutrients that may be missing from their bodies due to eating a limited diet. With nutrients such as vitamins A, B, C, and E, this supplement effectively boosts immunity and maintains vitality among older adults. Its formula also includes essential minerals like calcium and boron for heart maintenance and overall care of the body.
How Should I Take Centrum Adults Multivitamins?
You can take each capsule with or without food—Swallow it whole. Do not chew, break, or crush.
Ensure you take it with food if it causes an upset stomach.
For more information, Read the product's label and follow all instructions closely.
How Do I Store My Centrum Multivitamins?
Store drugs in a cool, dry place.
Avoid keeping a supplement in a cold place such as a bathroom.
Remember to keep all drugs out of the reach of children and pets.
Always throw away unused or expired drugs.
Gogo Herbs is one of Hong Kong's fastest-growing online stores, providing customers with premium health and wellness products. We help customers with handpicked vitamins and minerals, herbal and functional food products that are pure and effective for overall health and wellness. Available supplements on the gogostore include quality products from some of the reputable health brands around the world. Our expert team selects each supplement for young and older adults living with mild or serious health challenges. All handpicked supplements are safe and legally certified.
Related Products: