Life Tech USA is a brand that specializes in creating innovative, high-quality products for health and wellness. Their product line includes fitness and nutrition equipment, home health monitoring devices, and supplements. The company also offers other services and resources to help customers live healthier lives. Life Tech USA is committed to providing products that are simple and effective. This can be shown in their unique line of Nano Film Health Essentials. These sets of products are made with the new fast-dissolving oral soluble technology. It is a technology that promotes precise drug delivery in the body. The American brand also stands behind its products with a strong satisfaction guarantee. 
THE PARTNERSHIP BEHIND NANO-FILM HEALTH ESSENTIALS
Life Tech USA x Reign x Cloud Nine Labs is a new brand partnership focused on creating healthy products that provide a unique and potent experience for their consumers. The partnership combines the expertise of Life Tech USA, a leading manufacturer of high-quality fitness and nutrition products, with Cloud Nine Labs, a research and development company focused on creating innovative products and services. The partnership's mission is to create innovative supplements for customers seeking to improve their health and achieve a fitness goal.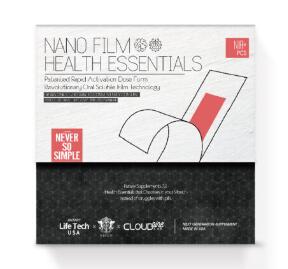 THE TECHNOLOGY BEHIND NANO-FILM HEALTH ESSENTIALS
Nano-film is a new biomedicine technology with great potential to revolutionize healthcare. A nano-film is a thin, durable and flexible layer of material. When put in the mouth, they quickly dissolve within seconds. Today, Nano-films can be used for many different applications within the medical industry. Life Tech USA uses these films in making their supplements. This is because they have been found more effective at delivering drugs directly into targeted areas within a patient body than other alternatives like capsules. All you have to do is put the mouth-dissolving tablet under the tongue and swallow until it fully dissolves.
 Nano-films also offer a range of other benefits, including improved biocompatibility and better control of drug release. As such, nano-films are increasingly used in various biomedical applications, such as wound healing, tissue engineering, and diagnostics.
Related: 5 American Supplement Brands to Buy
TOP NANO-FILM HEALTH ESSENTIALS YOU SHOULD TRY. 
This innovative product is the perfect solution for maintaining your skin health and delaying skin ageing. NIA+ nano-dissolving tablets use the power of Vitamin B3 to help keep your nervous, metabolism, and cardiovascular systems in great shape. The Vitamin B3 used in its formula converts into NAD+ (Nicotinamide Adenine Dinucleotide) to enhance body metabolism and delay the effects of ageing. 
With the NIA+ 12 TABLETS, you can enjoy improved skin health and a youthful, glowing complexion. Each NIA+ 12 Tablet is also gluten-free and dairy free. All you have to do is take 1 tablet twice a week. Put the mouth-dissolving tablet under the tongue and swallow until it dissolves completely. Get this product and experience the power of nanotechnology in your daily skincare regimen.
Benefits:
– Delays skin ageing and Improves skin health
– Promotes metabolism of fats, proteins and carbohydrates
– Promotes weight loss and heart health
– Rich In Antioxidants
Are you feeling overwhelmed and lacking restful sleep? The NANO FILM – RELAX+ 12 tablets can help you get the restful sleep you need to face the new day, feeling refreshed and relaxed. Its three-action formula combines melatonin x L-theanine x 5-HTP, along with a refreshing mint flavour, to deliver natural, non-addictive nutrition that helps you sleep and wake up feeling fresh. The nano-dissolve tablets melt in your mouth and provide essential nutrients that help regulate your sleep cycle and reduce stress. Don't wait! This product gives you the restful sleep you deserve to take on your daily tasks.
Benefits:
– Promotes and improves sleep quality
– Suitable for those with jet lag and irregular sleep schedules
– Natural and Non-addictive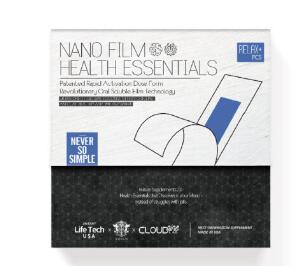 You don't have to rely on sugary energy drinks to get that extra boost. The NANOfilm ENERGY+ Nano Dissolving Tablets are here to provide instant energy without added sugar and stimulants. These ENERGY+ tablets are made with natural ingredients, such as green tea extract and guarana seed extract, and contain no added sugar. Its unique nano-particle delivery system ensures the tablets dissolve instantly in your mouth, providing a burst of energy with a refreshing citrus, cinnamon, and mint flavour. So, if you're looking for an energy boost without any side effects on your health, look no further than the NANO FILM – ENERGY+ Nano Dissolving 12 Tablets.
Benefits:
– Boosts energy to keep you energized
– It contains Zero Sugar and Zero Calories
– Non-addictive
The Nano SUN+ is designed to get you all the daily doses of vitamin D you need. This nutrient is essential for healthy bones, immunity and anti-inflammatory functions and is often hard to get for urbanites who work indoors and wear sunscreen when going outside. The SUN+ provide 50,000 IU of vitamin D3 (cholecalciferol) - enough to supplement your vitamins for a week - in an innovative new form. Each slim tablet has a fresh fruity taste and dissolves instantly in your mouth, allowing you to absorb nutrients right away. That means no more dealing with large pills or waiting for them to digest. Get your daily dose of vitamin D with the SUN+ tablets and stay healthy and strong.
Benefits:
– Maintain healthy bones and teeth
– Supports a healthy immune system, skin and gut health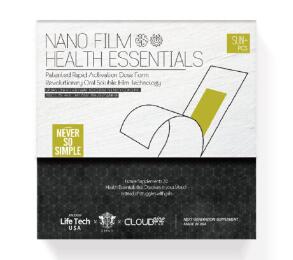 GogoHerbs is one of Hong Kong's fastest-growing online stores, providing customers with premium health and wellness products. We help customers with handpicked vitamins and minerals, herbal and functional food products that are pure and effective for overall health and wellness. Available supplements on the gogostore include quality products from some of the reputable health brands around the world. Our expert team selects each supplement for young and older adults with mild or serious health challenges. All handpicked supplements are safe and legally certified.