The waves of covid-19 pandemic strikes so abruptly and brutally. Effective rapid test tool became one of the hotselling products to defend against the disease .However a wide variety of product are sold at different prices,but the effectiveness lies our first concern.We shed light on the selection of right kind of Covid -19 rapid test tool for you and your family .We will share detailed information of the acclaimed ARISTA Covid-19 antigen rapid test stick and its usage,allowing you to buy and use free of concerns.
Basic description of ARISTA Covid-19 antigen rapid test stick
ARISTA comes from Singapore,certified with CE and test ability for Covid-19 verified by the Department of Health of Hongkong. Suitable to examine the infection of Covid-19 with a sensitivity high as 92% and specificity of 99%,consistency of RT-PCR 95.3%.You can obtain the test result in 15 minutes .People who have been to high-risk areas,people suspects infection but have no relevant symptoms and people in need of routine self-test for work purpose are recommend to use the test sticks.
Qualification of ARISTA Covid-19 antigen rapid test stick
CE certificate
Covid-19 Test ability verified by DH
Origin of ARISTA Covid-19 antigen rapid test stick and R&D support
Produced in Singapore.ARISTA Biotech was founded by Two experts in pharmacy in 2020 ,mainly contributes to the R&D and production of COVID-19 antigen test reagent set, as well as other diagnosis technology&product compatible with innovative science,massive data analysis for novel disease management .ARISTA has both companies in Singapore and Hongkong. Since the end of 2020,ARISTA has sold more than 100 million test sticks worldwide. The ARISTA has acquired verification and sales certificate in more than 10 countries and areas including the Britain ,Germany ,Italy ,Australia ,Hong Kong, Singapore and other European and Southeast Asian countries.
What are inside ARISTA Covid-19 antigen rapid rapid test stick tool?
1 sterile cotton swab
1 dropper bottle
1 dosage of clear solution
1 phlegm sample collection plate
1 test stick
Effectiveness on ARISTA Covid-19 antigen rapid test stick
sensitivity high as 92%
specificity of 99%
consistency of RT-PCR 95.3%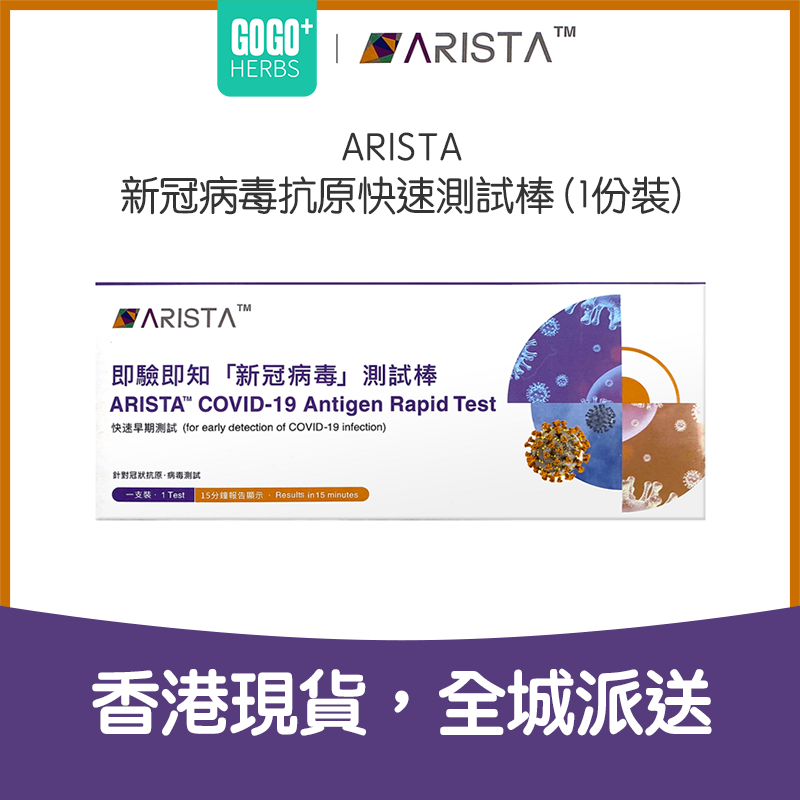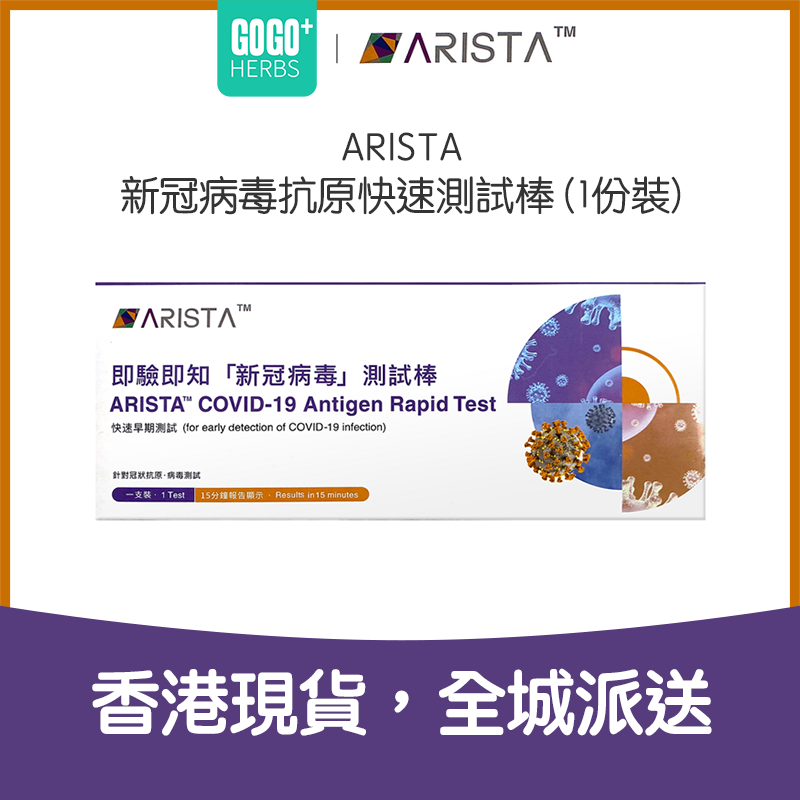 Distinction of ARISTA Covid-19 antigen rapid test stick
Complete a test within 15 minutes
Antigen test recognized by WHO
Simple steps,no need for blood draw ,no need to puncture finger,portable
ARISTA Test result 100% matches the result of DH nucleic acid testing
Sensitively detect the infection in early stage.Successfully examine infection status in the first 2 to 3 days of infection while ordinary IgM,IgG antigen tests only respond to infection for 7-9 days.
People suggested to use ARISTA Covid-19 antigen rapid test stick
People recently have been to areas of high infection risk,people without any symptoms but are afraid of infection,suspicious infected people and routine self test for work purpose.
How to use ARISTA Covid-19 antigen rapid test stick
Sampling through Phlegm from lung
1.Please cleanse and dry hands before proceeding a test.It's suggested to take the test in the morning before you clean your mouth.
2.Breath in deep and then out for three times.
3.Cough from deep inside the chest and produce phlegm.
4.Spit the phlegm(yellow,green) into the phlegm collection plate
5.Carefully take the sterile cotton swab.Keep the tip of swab off any surface other than the test sample.
6.Mix the phlegm with the swab, then soak the swab in the phlegm.
7.Cool the test sample and antigen test tools till it is at door temperature.
8.Press down the built-in pinhead at the cap of dropper bottle, and pierce a hole at the tip of dropper bottle.
9.Take the big cap off the dropper bottle and place it on the desk.The protection small safety cap should face down.
10.Fill the dropper bottle with reagent and insert the cotton swab into the dropper bottle .Rotate the swab in the dilution reagent for 30 seconds.Squeeze the dropper bottle gently and and stir the solution for at least 5 times.
11.Squeeze the dropper bottle while puling out the the swab.The swab should be discarded properly.
12.Tighten the big cap onto the dropper bottle and shake the dropper bottle gently for 5 seconds until the solution is uniformly mixed.
13.Hold the dropper bottle upward and remove the safety small cap ,and discard the first 2 drops of sample in the phlegm collection plate .And then drip 3 drops of reagent into the sample hole[S] of the test stick.
14.Wait 15 minutes.
15.Check the result immediately and record it
16.Gather all the test items into the provided plastic bag and sanitize hands again
Test result reference of ARISTA Covid-19 antigen rapid test stick
Negative result :the QC section [C]shows a red line and the test section [T] shows no sign.
Positive result: both the QC section [C] and the test section[T] show an individual red line.
Fail test:No sign shows at both [C] and [T] or an only line shows at [T] section
Pay attention to the listed information regarding the usage of ARISTA Covid-19 antigen rapid test stick
In vitrol only
Nasopharyngeal swab sample should be collected by professionals
Please take necessary protection when using this product or processing the sample in accordance of the protocol.
Please follow the instruction to achieve the best performance of the test stick.
Do not open the package before use.If there's any breakage of package prior to use, don't use the test toll .If the test tool is open for a certain period or expose to certain inappropriate environment,don't use it either.
Use the test stick before expiration.
Do not repeat using any item of in the test stick package
Do not use any external swab to collect sample.
Unsuitable practice of sample collection ,storage and transportation of product may lead to an inaccurate test result.
Declaration of ARISTA test result.
This product is intended for primary screening only.The test results should be combined with other clinical symptoms for diagnosis.If there is any suspicion on the test results,please seek professional medical advice immediately.if you suspect of infection,feeling unwell or showing any symptoms,such as fever, cough, runny nose and sore throat,please consult a doctor for appropriate diagnosis.
ORDER NOW!ARISTA Covid-19 antigen test stick
[Covid-19 self test kit]YHLO/GOLDSITE/Green Spring/Hotgen/Abbott Panbio order online - Gogoherbs
Recent information of ARISTA Covid-19 antigen test stick
Recent information of ARISTA Covid-19 antigen test stick
Related Products: