Pet health has continued to achieve great attention in the supplement industry. Like other pets, dogs fall ill and encounter many health challenges. These may include diarrhoea, poor digestion, flatulence, lack of appetite, vomiting, loss of hair, itching of the skin, etc. A major cause of poor health in dogs is a lack of proper nutrition and hygiene. When a dog is sick or unhealthy, it can create a burden on the owner. For instance, a dog's skin disease or foul smell can cause discomfort to people around. In addition, when a dog is vomiting or has diarrhea or hair loss, it can mess up the home by polluting the carpeting and upholstery.
Today, researchers have been able to develop many natural solutions to maintain your dog's health. Most dietary supplements for dogs are designed with special ingredients that also work for humans. This article suggests 5 vital veterinary supplements for your dog. These products cater to the top aspects of your dog's health needs, such as joint, digestion, behaviour and more.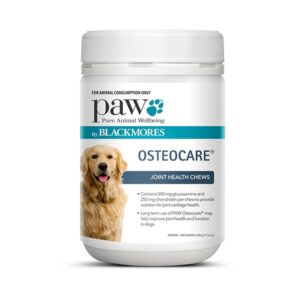 5 Basic Supplements for Your Dog
Osterocare Chews is recommended for dogs that need maximum support of cartilage, joints, and connective tissue. It contains Glucosamine, Chondroitin, and MSM. The formula also features antioxidant vitamins and minerals to help reduce oxidative stress around joints. All these powerful active ingredients combined in a meaty chew create a tasty soft treat that enhances bone and joint health. 
This powerful joint supplement is suitable for older or middle-aged large dogs or smaller dogs with maximum joint support needs. It can be taken along with prescription drugs. 
This Supplement assists digestion and normal nutrient absorption in your dog's body. Its special formula is made using yam, Gorgon, jujube, dried tangerine peel and other pure natural Chinese medicines. The unique mix of ingredients supports healthy digestion so your dog can maintain a healthy intestinal tract and supports proper digestion and bowel health. In addition, it works to help your dog's gastrointestinal tract have the proper balance of healthy microorganisms to promote intestinal wellbeing.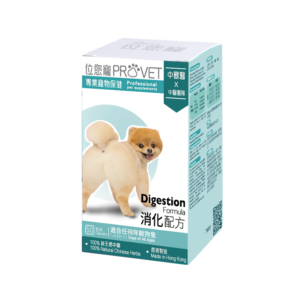 When your dog's skin is moisturized and healthy, it sheds less fur. Here is a Made-in-Hong Kong specially formulated product designed for your dog's beauty care. This product features a comprehensive blend of Cordyceps powder Cs-4, lecithin, omega-3, and essential vitamins to promote healthy skin and fur shine. Regular use of this supplement keeps skin moisturized, which helps minimize shedding.
This skin & coat supplement is suitable for dogs of all ages. However, it should be used more for dogs who grow thick hair and are exposed to seasonal shredding.
Apart from dietary supplements, dogs need proper hygiene. This product is a sweet-scented shampoo with antiseptic (antibacterial and antifungal) activity designed for dogs. It contains chamomile and coconut ingredients that moisturize and provide nutrition for the puppy's delicate skin. This antiseptic shampoo also offers deep cleansing and deodorizing while disinfecting and preventing the growth of disease-causing microorganisms.
This special tryptophan supplement is designed to reduce stress or anxiety in dogs. Other multivitamins and minerals in this product make it an all-natural solution to help boost your dog's immunity and nervous system health. Complete calm is perfect for dogs exhibiting nervousness, hyperactivity, discontentment, or responding to environmentally induced stress. These chewable tablets will help to maintain normal emotional balance and relaxation in your distressed dog.
 Each 300g is powerful and should be taken as prescribed:
Dogs 0-4 kg: Chew 1/2 tablet daily with meals
Dogs 5-14 kg: Chew 1 tablet daily with meals
Dogs 15-29 kg: Chew 2 tablets daily with meals
Dogs 30 kg or more: 3 tablets per chewing day with meals
Where Can I Buy My Pet Supplements? 
You can always get your pet supplements from an online store, pharmacy or veterinary store. However, it is important that you select a premium product that is tested and reliable for your pet. That is why you need a trusted store like gogoherbs.com. 
Gogo Herbs has a strong focus on pet health. It offers its beloved customers only the best pet products with ingredient purity and quality.
Related Products: