Webber Naturals  glucosamine formulations are keeping the steps ahead as an effective, supplemental means of joint treatment.
Glucosamine  and chondroitin sulfate are among the top non-steroidal, anti-inflammatory drugs used for joint relief around the world today. Over the years, several strings of studies suggest the anti-inflammatory and anti-degrading properties of glucosamine and chondroitin in the joint areas. Today, Webber Naturals glucosamine products are fast-proving to be among the top-market choices with high-bioavailability and potency.  
What is Glucosamine and Chondroitin Sulfate?
Glucosamine and chondroitin are naturally occurring compounds found in the body's connective tissues, including the cartilage. This means that the body naturally produces its own glucosamine and chondroitin found in healthy cartilage.
The human body does need healthy cartilage to act as a cushion for joints, absorb shock, and keep bones from rubbing and stiffly colliding with each other. Therefore, the human body must have enough glucosamine and chondroitin to promote the formation of healthy cartilage in their joints. That's why supplements to boost glucosamine and chondroitin levels are recommended for people with joint problems.
Products like Webber Naturals glucosamine and chondroitin supplements are manufactured from the cartilage of animals such as cows, pigs, or shellfish or produced in a laboratory. However, only a few products like Webber Naturals glucosamine give a more scientific approach to their joint formula. This will be explained further in this article.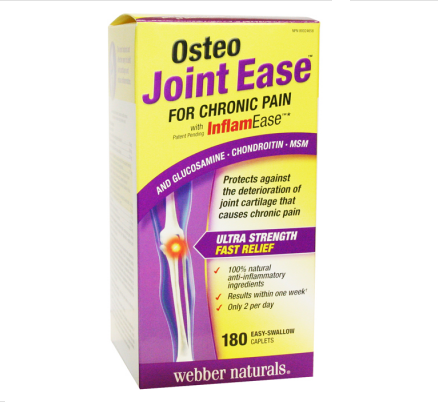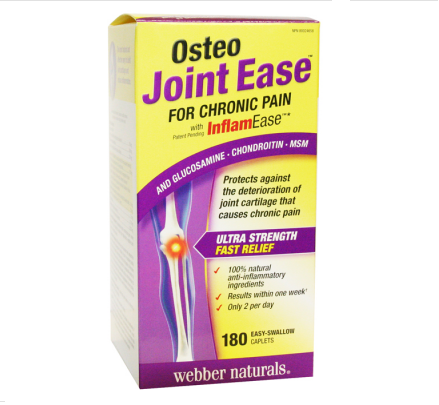 Webber-Glucosamine VS Bone and Joint Discomfort
Joint discomfort has become a common problem in adults. Statistics show that there are 355 million people suffering from joint discomfort worldwide. In fact, joint discomfort is the number one degenerative joint problem worldwide. As of 2015, 120 million people in mainland China have suffered from joint discomfort.
Osteoarticular discomfort is a problem derived from the degeneration of articular cartilage. Osteoarticular discomfort usually occurs in the knees and hips of the human body. The articular cartilage deteriorates, causing the joint to degenerate, the cartilage is worn away and the exposed bones begin to rub against each other. The main features of musculoskeletal discomfort are severe pain and limited mobility.
Unfortunately, conventional drugs have proven unsuccessful in the treatment of knee osteoarthritis. In most cases, these drug therapies fail to relieve pain, repair cartilage, and treat subchondral damage associated with osteoarthritis.
However, patients with osteoarthritis today may choose to take nutritional supplements such as glucosamine and chondroitin sulfate or other herbal remedies for long-term relief.
How Webber Naturals Glucosamine Supplements Work
For effective joint formulations, supplement brands need to focus on the following:
Ingredients with anti-inflammatory benefits.
Ingredients with anti-nociceptive/analgesic benefits.
Ingredients with antioxidant benefits
Ingredients that promote a viscoelastic joint and cartilage.
Ingredients that facilitates repair and reduce cartilage deterioration.
As reiterated earlier in this piece, Webber Naturals glucosamine supplement products feature an advanced formula specifically designed to enhance joint health and function. The Webber Naturals - Osteo Joint Ease InflamEase Caplets is a proper example in this regard. It combines both herbs and natural extracts to provide potent anti-inflammatory and regenerative benefits for the joint. Some of these ingredient facts include:
750 mg of Glucosamine Sulfate per caplet: Webber Naturals glucosamine is extracted and produced in its most bioavailable form. This means that the whole 750mg of glucosamine is quickly absorbed into the system and can be traced to cartilage as soon as four hours after consumption. Over here, glucosamine plays the roles of an anti-inflammatory agent and a cartilage rebuilder. Studies suggest that taking 1500mg of glucosamine daily (750 x 2) over one month can help build-up cartilage, increase joint viscoelastic, and reduce pain.
300 mg of Methylsulfonylmethane (MSM): MSM contains high amounts of organic sulphur, an important 'building block' for healthy bones and joints. This chemical is mainly extracted from fresh raw foods, including fruits, vegetables, and meat. Studies have found that MSM has anti-inflammatory and antioxidant effects. The addition of 300 mg of MSM to this formula is targeted to increase glucosamine production. MSM is also believed to have a moderate effect on improving joint pain and swelling.
200 mg of sulfuric acidChondroitin: Chondroitin also acts as an anti-inflammatory agent and promotes cartilage tissue reconstruction. It is worth noting that chondroitin helps to protect chondrocytes, thereby maintaining cartilage structure. Therefore, chondroitin sulfate may play an important role in slowing down the breakdown of cartilage associated with osteoarthritis, and may even promote cartilage growth.
7.5mg of Hyaluronic Acid: Hyaluronic acid is naturally present in cartilage tissue and synovial fluid of joints. Having high amounts of hyaluronic acid may have long-term potentially beneficial effects on cartilage tissue and joint structure. Interestingly, some patients receive hyaluronic acid injections to increase lubrication and shock absorption within the joint. Studies have shown that patients with bone and joint pain will lose about 50% of hyaluronic acid and synovial fluid in cartilage. That's why Webber's Glucosamine formula contains 7.5 mg of hyaluronic acid to avoid starvation of the chemical in the joints.
Beneficial herbal extracts (turmeric and boswellia): Turmeric has been shown to reduce joint pain, whether it is administered as a medicine or salves. In ancient medicine, turmeric and egg yolk were often used to relieve pain and speed up the healing process of sprains, strains and damaged bones. This is because curcuminoids in turmeric act as potent antioxidants and anti-inflammatory agents. Boswellia, on the other hand, is the herbal extract of the Boswellia serrata tree. It is an anti-inflammatory drug that is used to relieve joint swelling and discomfort. In Webber Health's Joint & Bone All-in-One, they combine 50 mg of Boswellia extract with 25 mg of Turmeric to add to the anti-inflammatory benefits of these tablets.
Conclusion
For patients seeking alternatives for combination therapy, Weibojian'sGlucosamineIt is indeed a one-stop solution to the problem. The efficacy of these supplements mainly depends on their unique formula. Each product contains natural and efficient ingredients that can simply play a synergistic effect to achieve the same result. As these ingredient information shows, they have also been proven to be effective for long-term relief of joint pain.
Related Products: