Beautiful skin is one of the common desires of many people in our society. Regardless of our sex, age, or ethnicity, we all want to feel good in our own skin. So today, there is an ever-growing demand for anti-ageing supplements and solutions to look younger and keep skin healthy. Experiencing symptoms of ageing like wrinkles, age spots, and sagging skin is quite normal as we grow older. However, the good news is that you can delay the signs of ageing by practising some natural tips. Sometimes, the foods you eat may be the best resource your skin has to help it fight the outward signs of ageing. Also, taking premium anti-ageing supplements could boost a skin's ability to repair itself and maintain youthful glow. Here are some top anti-ageing supplements for smooth, soft, glowing skin. 
Related: 5 Anti-Aging Vitamins to Stay Younger
Why Do I Need Anti-Aging Supplements For My Skin?
As we grow older, many natural changes happen to our skin. For example, the tight connections between our skin's layers naturally begin to loosen. Secondly, Free radicals damage in the skin becomes high as collagen production reduces. This is exactly why the skin experience ageing symptoms like wrinkles and sagging. Another reason you should know is that our diet changes as we grow older. Some of the nutrients absent from our food at old age may be affecting the skin. The skin needs many nutrients to function properly and to look radiant. Some of them are Vitamin B, C and E. These nutrients help the skin repair damage, build support structures, stay moist, and prevent disease. In an experiment, young people who ate a diet high in bad fats and processed carbohydrates had more wrinkles in future than those who ate a diet rich in vitamin C. Taking anti-ageing supplement will help to replenish your body with essential nutrients needed to preserve your skin from ageing.
5 Recommended Skin Anti-Aging Supplements
Collagen Supplements
Collagen makes up 75 per cent of our skin. It is a protein that gives skin a smooth, tight, and beautiful finish. A healthy collagen level gives skin a smooth, plump, young, healthy appearance. However, low collagen production causes unwanted wrinkles and the appearance of aged skin. Unfortunately, skin collagen naturally reduces as we grow older. This is why you need a collagen supplement to boost collagen levels in your skin.
Recommended Product: Swisse-Collagen Peptide Luminescent Tablets- a top skin replenishment formula equipped with Grapeseed, collagen peptide complex and coenzyme Q10, all blended to support collagen production and skin elasticity from within.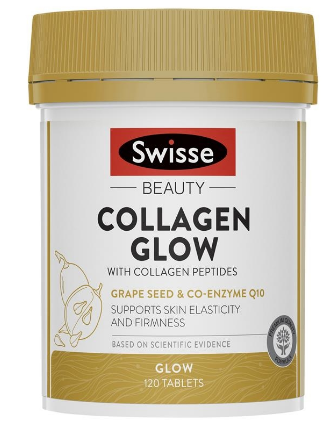 NMN Supplements
Today, they are many studies suggesting that NMN (nicotinamide mononucleotide) supplements may be the new fountain of youth. The reason is that NMN boosts natural NAD+ in the body. High NAD+ in the body helps cells with energy, repair damaged DNA and assist in cellular functions. This is good news for the skin because sunlight exposure can, over time, cause DNA damage to our skin which may result in premature ageing. So, taking NMN Supplements helps protect the skin from the effects of long exposure to sunlight. This will keep the skin smooth, plump and youthful.
Recommended Product: Charenda -Noga Factor Supplement (NAD Booster with Kakadu Plum) –a unique mix for cell protection and repair with NAD+ level boost to fight against skin ageing. Kakadu plum, rich in vitamin C, is added for extra cell immunity and antioxidant effect.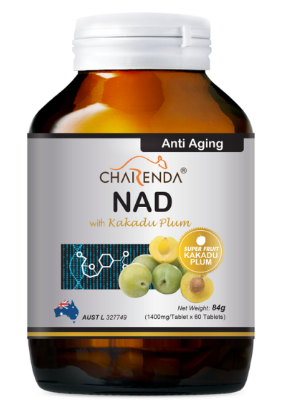 Vitamin C Supplements
Eating fresh fruit is very good for your skin and your overall health. Vitamin C found in fruits is a very important nutrient for the skin. This nutrient is a powerful antioxidant that fights free radicals, disarms them, and stops them from damaging collagen, elastin, and other skin structure. More so, the body cannot make collagen without vitamin C. Apart from taking Vitamin C anti-ageing supplements, always eat rich fruits like acai, acerola, apples and blackberries regularly to preserve your skin. 
Coenzyme Q10 Supplements
CoQ10, or coenzyme Q10, is a powerful antioxidant in skin cells. This nutrient protects skin cells from free radicals and promotes DNA repair. Apart from that, coenzyme Q10 helps skin cells produce enough energy needed to function. However, the sad news is that coenzyme Q10 levels in the skin decline with age. Studies suggest that we have the highest CoQ10 levels during the first twenty years of life. Moreover, it is tough to find in most foods. For example, CoQ10 is only present in small amounts in poultry and oily fish and whole grains. This explains why you need a rich coenzyme Q10 supplement to boost and combat ageing signs that may be caused by a deficiency of this nutrient. 
Elastin Supplements
 You may have come across a supplement with the word "Elastin." Elastin is a rubber-like protein found in many organs and tissues in the human body. This protein is what makes the elastic tissues of our skin to stretch, bend, and bounce back into place. Without elastin, our skin would be saggy, wrinkly, and have no elasticity. In fact, low elastin in the skin has been linked to the appearance of stretch marks on the body. Unlucky, elastin begins to reduce in our bodies after puberty. For this reason, people who do not produce high elastin during childhood are more likely to experience early ageing signs like wrinkles and saggy skin. This is why we recommend you take an anti-ageing supplement rich in elastin.
Elastin supplements are sold as "elastin peptides." You are most likely to find them combined with collagen in the same product. Taking these supplements protects elastic fibres in the skin and also boosts collagen.
GogoHerbs is one of Hong Kong's fastest-growing online stores, providing customers with premium health and wellness products. We help customers with handpicked vitamins and minerals, herbal and functional food products that are pure and effective for overall health and wellness. Available supplements on the gogostore include quality products from some of the reputable health brands around the world. Our expert team selects each supplement for young and older adults with mild or serious health challenges. All handpicked supplements are safe and legally certified. 
Related Products: