Like most joint supplements, Kirkland glucosamine products aim to solve the increasing problem of joint pain and osteoarthritis among older adults. Currently, one of the top joint products of this brand is the "Kirkland Signature - Glucosamine Chondroitin & MSM| 300 tablet." The specially packed three-in-one supplement is an efficient dose combination of 3 top-rated joint repairing compounds. With glucosamine as the front leader, these gems have become a reliable natural treatment for joint conditions. In addition, studies have concluded that these compounds could repair cartilage and reduce symptoms of osteoarthritis.
This article reveals three basic facts about the Kirkland glucosamine three-in-one super joint formula. It also explains why you should choose this product as a part of your joint care regimen.
Related: Benefits of Glucosamine, Chondroitin, and MSM
Who Is Kirkland Signature? 
Kirkland Signature is one of America's biggest supplement brands. Costco started Kirkland Signature in 1995. Today, Kirkland Signature prides itself in a lovely collection of vitamin supplements, superfoods, and other health products across the market. Since its beginning, the brand has been passionate about helping its customer achieve optimal health. Most companies who test their products commend the brand for good nutritional value, potency and purity standards.
Gladly, this brand offers the Kirkland Glucosamine Joint Formula, which is reviewed in this article. Following thorough research, the Kirkland team designed this product to take care of cartilage repair and promote joint lubrication. This Super Joint supplement is also anti-inflammatory in action. Several experiments conclude that glucosamine therapy provides reliable pain relief for patients with osteoarthritis.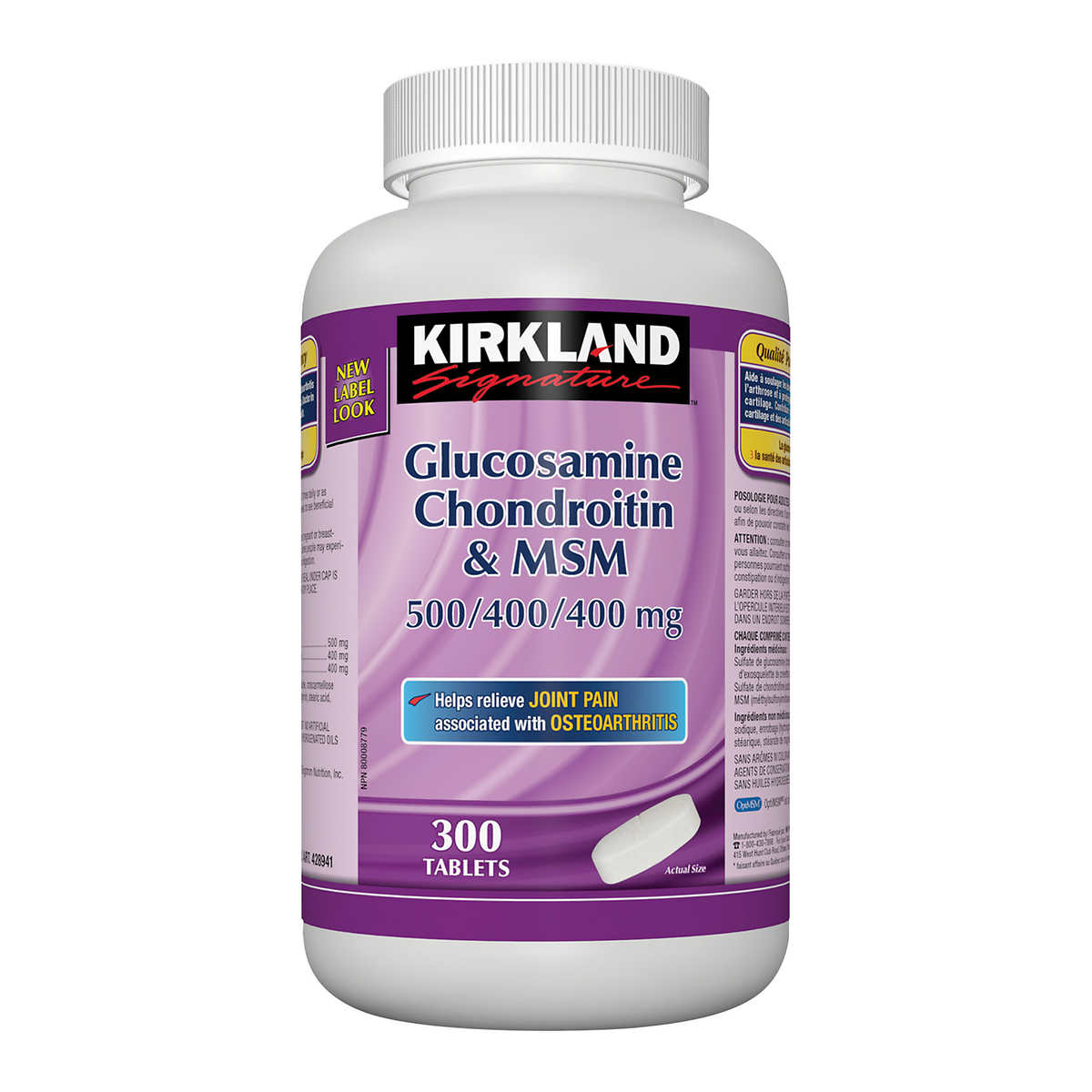 What is the content of the Kirkland Glucosamine Three-In-One Super Joint Formula?
Each container comes filled with 300 tablets. A tablet contains a total of 1300mg divided into:
500mg Glucosamine Sulfate
400mg Chondroitin Sulfate
400mg Methylsulfonylmethane (MSM) 
Benefits of the Kirkland Glucosamine Three-In-One Super Joint Formula
1.Joint pain relief, especially in osteoarthritis
2.Fights against joint inflammation
3.Reduces Joint stiffness and swelling
4.Provides Joint antioxidant protection
Facts about the Kirkland Glucosamine Three-In-One Super Joint Formula
1.The Kirkland Glucosamine formula provides Ultra high-purity Glucosamine Sulphate.
Glucosamine is available in three different forms. The form found in the Kirkland Glucosamine formula is called glucosamine sulfate. This form of glucosamine gets easily absorbed and assimilated by the body. Using high-end manufacturing techniques, Kirkland extracts its glucosamine from shellfish shells and prepares it in the laboratory. The final product is potent and very pure to keep the joints healthy.
2.The Kirkland Glucosamine Formula Is A Hybrid Of 3 Powerful Joint Compounds. 
The three joint compounds are Glucosamine sulfate, Chondroitin Sulfate and Methylsulfonylmethane (MSM). These three compounds were measured separately and combined together in one tablet for fast action to give the joint an effective treatment. While added glucosamine promotes joint lubrication and reduces cartilage wear, chondroitin helps joints form new cartilage. MSM, on the other hand, helps to protect cartilage from oxidative damage. 
3.The Kirkland Glucosamine Formula Requires At Least Four (4) Weeks To Show Beneficial Effects.
The ingredients in this supplements need at least four weeks to stimulate cartilage synthesis and work on the joints. To enjoy this effect, a patient ought to take each 1300mg tablet 3 times daily for 4 weeks. It is also recommended to combine the supplement with frequent exercise. Adopting this method strengthens joint muscles and ensures faster recovery.
Conclusion
People who suffer from Joint diseases complain of symptoms like swelling, pain and stiffness around their joints. Nowadays, patients are constantly looking for natural pain-relieving medications for their joint conditions. The Kirkland Glucosamine three-In-One Super Joint Formula is designed to keep joints healthy. Its 1300mg tablets combine precise doses of glucosamine, chondroitin and MSM in the best and purest forms. Within weeks of regular intake, this supplement could rapidly improve the symptoms of joint disease and the quality of life of older adults.
For joint treatment to work effectively, patients must try to reduce their body weight. As a result, it is advised to exercise your joints regularly to strengthen the muscles and reduce body fat. Combining exercise with any joint supplement could reduce pain and enhance joint function within 8-24 weeks.  
Gogo Herbs is one of Hong Kong's fastest-growing online stores, providing customers with premium health and wellness products. We help customers with handpicked vitamins and minerals, herbal and functional food products that are pure and effective for overall health and wellness. Available supplements on the gogostore include quality products from some of the reputable health brands around the world. Our expert team selects each supplement for young and older adults living with mild or serious health challenges. All handpicked supplements are safe and legally certified.